Direct Patterning of Inorganic Nanomaterials
S. Himmelstein | July 28, 2017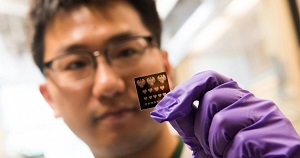 Postdoctoral researcher Yuanyuan Wang holds a 'mask' used in a new process that makes it easier to build nanomaterials into transistors, solar cells and other devices. Image credit: Jean Lachat
Photolithographic techniques enable simultaneous production of billions of transistors for computers and other electronics. This process carves a stencil out of a layer of organic polymer by laying down a patterned 'mask' and illuminating it with ultraviolet light. New material is deposited on top, after which the polymer stencil is lifted off to reveal the pattern. Several rounds of such patterning build a miniature transistor onto the material.
However, only a few materials, including silicon, can be patterned this way, prompting researchers to seek alternative substrates. A method to precisely pattern nanomaterials has been developed by scientists from the University of Chicago and Argonne National Laboratory.
The DOLFIN technique transforms different nanomaterials directly into 'ink' in a process that bypasses the need to lay down a polymer stencil. Chemical coatings tailored for individual particles react with light, so by shining light through a patterned mask, it will transfer the pattern directly into the layer of nanoparticles below — wiring them into useful devices.
The quality of the patterns achieved with this approach was comparable to those made with state-of-the-art techniques. The patterned materials can be metals, semiconductors, oxides, magnetic or rare earth compositions.