Selective Conversion of CO2 to CO
S. Himmelstein | July 28, 2017
A "spongy" nickel organic crystalline structure converts carbon dioxide into carbon monoxide on exposure to visible light. In addition to potentially mitigating levels of this greenhouse gas, the CO can be transformed into liquid fuels and other valuable products.
Researchers from the U.S. Department of Energy's Lawrence Berkeley National Laboratory report a near 100% selectivity of CO production without formation of hydrogen, methane, or other unwanted by-products.
The process is based on an innovative laser chemical method of creating a metal-organic composite material. Nickel precursors dissolved in a solution of triethylene glycol are exposed to an unfocused infrared laser, which triggers a chain reaction in the solution as the metal absorbs the light. The resulting reaction forms metal-organic composites that are then separated from the solution.
The researchers characterized the structure of the material at the Molecular Foundry, a DOE Office of Science User Facility at Berkeley Lab. The nickel-organic photocatalyst had notable similarities to metal-organic frameworks, which have a regular crystalline structure with rigid linkers between the organic and inorganic components. However, the new photocatalyst incorporates a mix of soft linkers of varying lengths connected with nickel, creating defects in the architecture.
"The resulting defects are intentional, creating more pores and sites where catalytic reactions can occur," said Kaiyang Niu, a materials scientist at Berkeley Lab's Materials Sciences Division. "This new material is more active and highly selective compared with MOFs made by traditional heating."
When tested in a carbon dioxide-filled gas chamber, one gram of the nickel-organic catalyst produced 16,000 micromoles, or 400 milliliters, of CO in an hour at room temperature.
Scientists from Nanyang Technological University, Singapore, also participated in this research.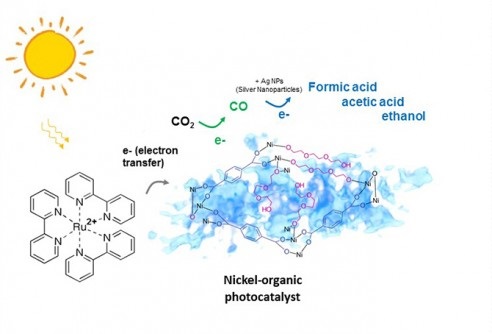 Schematic of a spongy nickel-organic photocatalyst converting carbon dioxide exclusively into carbon monoxide, which can further be converted to high-value liquid fuel through visible light-induced photocatalysis. (Credit: Kaiyang Niu and Haimei Zheng/Berkeley Lab)