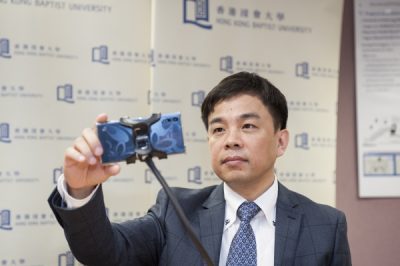 Professor Cheung Yiu-ming demonstrates the fatigue driving detection and alarm system to alert a drowsy driver. Image credit: Hong Kong Baptist UniversityYou may no longer need to purchase an expensive car in order to get your hands on the technology that alerts a driver when they show signs of fatigue. Thanks to researchers at Hong Kong Baptist University, that technology may soon become available as an inexpensive app.
Much like the sensors outfitted in expensive cars, the app can detect when a driver is becoming drowsy based on how the driver is holding his or her head and changes in their eyelids (both signals of fatigue). Like the sensors, the app will activate an alarm that will sound until the driver deactivates it either by hand or voice command. However, this is where the similarities in technologies end.
In the case of the app, all that is required is a smartphone that is mounted on the dash with a view of the driver's face. Unlike the technology meant for individual automobiles, the phone can be transferred from car to car.
Researchers have applied for a U.S. patent for the system.