Bringing a Solar-powered Breeze to Uganda
Nancy Ordman | July 13, 2017
A project conceived six years ago is coming to fruition for two Carnegie Mellon University graduates. Joshua Schapiro and Mike Taylor, research associates in the university's CREATE Lab, have designed a solar-powered ventilation system they plan to build and install in homes in a village four hours outside of Kampala, Uganda.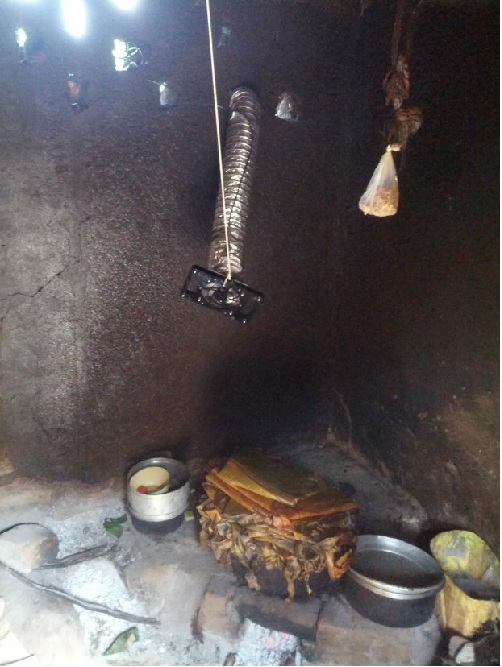 First-generation solar-powered generator installed in a Ugandan house. Image credit: Joshua Schapiro
The single-room homes typical in Makukuulu parish serve as living, sleeping and cooking spaces. Each home has an opening in its roof to let cooking smoke escape. However, the small holes do not function well at all, leading to a backup of smoke indoors.
Poor indoor air quality leads to 4.3 million premature deaths each year and doubles the risk of childhood pneumonia. The dangers posed by outdoor air pollution are much better known than the dangers of indoor pollution. The fine particulate matter released by inefficient combustion — like the villagers' stone and brick stoves — is particularly damaging to lungs.
Schapiro and Taylor understood the need and set out to design a solar-powered ventilation system to remove the smoke and particulates. The design had to conform to several constraints: low cost of construction, readily-available parts, easily transportable and easily assembled in situ. In 2013, Schapiro and Illah Nourbakhsh, CREATE lab's director, carried six prototype systems to Makukuulu.
The ventilators consisted of a 120 millimeter PC case fan connected to a flexible aluminum ventilation hose. The fan was encased in a plastic housing that also included a ring of bright white LEDs. High-capacity rechargeable USB batteries with built-in solar panels powered the ventilators.
"The smoke was so thick in there [the house] that you couldn't even breathe," Schapiro said of one of the homes. Within a few minutes of switching the ventilation on, "the group was hanging out and talking. It worked well. They loved it," Schapiro added.
Schapiro and Taylor included an LED light in the ventilator package to help illuminate the otherwise-dark homes. "We didn't realize until we were standing in the kitchens how dark they were," Taylor said.
Despite the ventilator's low cost and utility, Schapiro and Taylor were not successful in their quest for corporate funding. They are now engaged in fundraising for Project Breeze via generosity.com. They hope to take 25 units made from their improved design to Uganda in January 2018. Their plan is to train local residents to install the ventilators.