Growing the Next Generation of Green Structures
Maggie McLaughlin | July 06, 2017
Vesaluoma's grown structures. Image credit: Brunel University, LondonGreen building has been a trend for a while now. A Brunel University London student takes that trend to the next level: growing green structures.
Aleksi Vesaluoma, along with the environmentally-minded architecture firm Astudio, mixed mycelium—essentially mushroom "roots"—with cardboard, then molded it into "'mushroom sausages' by packing the mixture into a tubular cotton bandage." Those bandages were shaped over a mold before being allowed to grow for at least four weeks in a ventilated greenhouse.
In this case, the mycelium is used like an organic glue, binding the cardboard together. Brunel University noted that the "resulting materials are extremely versatile, and when used in construction, have the potential to ease environmental problems caused by resource deletion, deforestation for wood or toxic emissions from brick firing."
For now, the resulting structures resemble more of a structural trellis than a building. The partnership believes these structures would be ideal for festivals or other events, since they are biodegradable and wouldn't add to a landfill when the short-term function ends. In particular, they imagine these structures being ideal for a pop-up restaurant since the structures themselves actually sprout gourmet mushrooms.
"Right now the main factors holding back the mass-commercialisation of mycelium materials are people's assumptions, as well as the power of the profit-driven materials industry," Vesaluoma explains.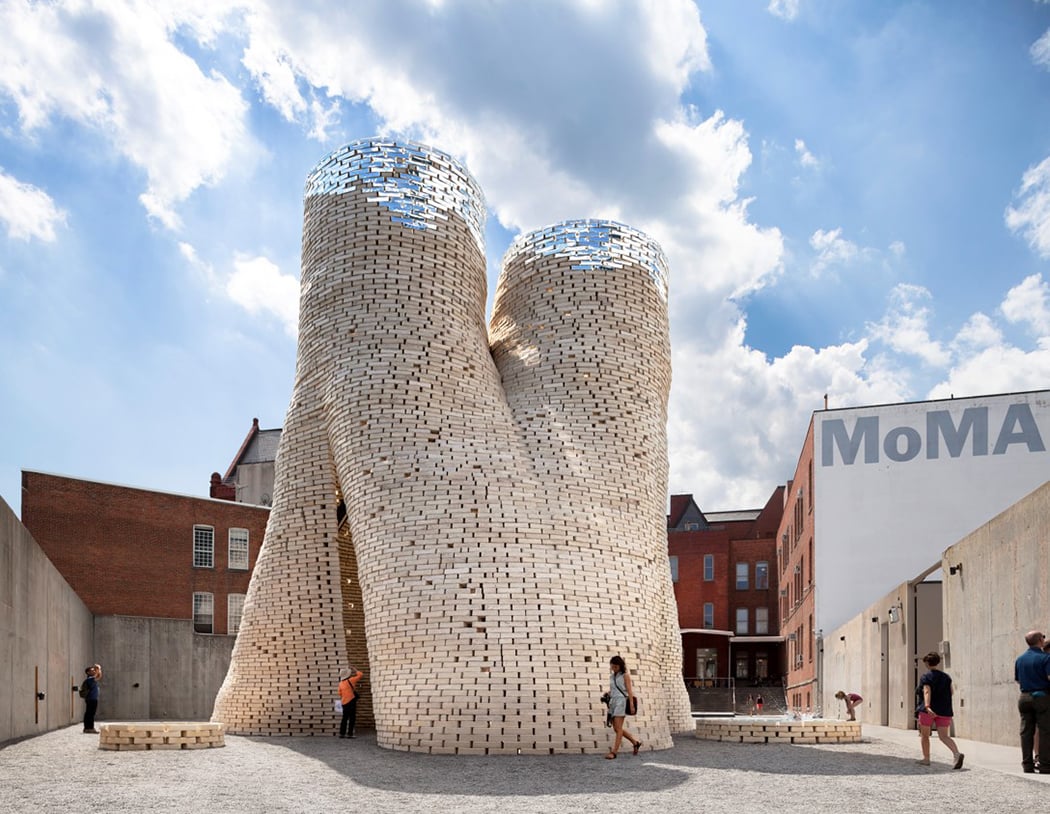 The Hi-Fi. Image credit: David Benjamin/The LivingSurprisingly, Vesaluoma is not the first to use mycelium in the architectural sphere. In fact, the world of mycelium construction is deeper than it appears, and the mushroom-architecture movement actually has a name: mycotecture.
One architect, David Benjamin, the director of the "Living Architecture Lab" at Columbia University's Graduate School of Architecture, Planning and Preservation (GSAPP), debuted the first tower, the Hi-Fi, made from the fungus at MoMA PS1 in Queens, NY, in 2004. In the creation of this tower, Benjamin partnered with Ecovative to construct the "strong, durable, and water-resistant" mycelium bricks—rather than using something like the previously mentioned mycelium sausages. These mycelium bricks don't grow mushrooms as Vesaluoma's mycelium sausages do, allowing them, and similar products, to be used in longer-term construction.
Ecovative, which targets the packaging world, is a relatively new company with some pretty powerful allies. One such ally, 3M, was crucial in the construction of the tower as they designed the molds that are covered in a special light-refracting film. Those molds actually make up the top portion of the tower.
Ecovative provides a description of how they go from mushroom roots and agricultural byproducts to packaging materials, but you can also learn more about them in past Engineering360 and CR4 articles.