The Nuclear Advanced Manufacturing Research Centre, which works with U.K. manufacturers to help them win work in the nuclear power sector, opened a new modular manufacturing R&D center at the Birkenhead site of member company Cammell Laird.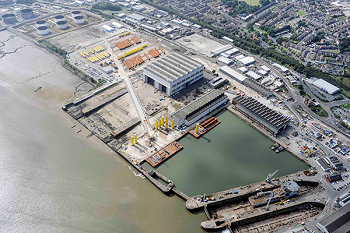 The new Birkenhead facility. (Source: Nuclear Advanced Manufacturing Research Centre)
The launch marks the start of a research collaboration led by Cammell Laird to develop modular manufacturing techniques to support the U.K.'s nuclear new build program. Modular manufacturing involves off-site assembly of large-scale complex systems, which are then transported to site for final installation.
These techniques are already widely used in shipbuilding, aerospace and other safety-critical industries. In the nuclear sector, they can significantly reduce construction risk and help deliver new power stations to schedule and cost.
With over 1,000 square meters of workshop space, the new facility will host specialized machining, joining and assembly equipment to develop and prove modular manufacturing techniques for nuclear applications. Work will address modular manufacturing for new reactors of all sizes, as well as the challenges of decommissioning and waste management.