Study: Solar Cell Output Cut by Air Pollution
S. Himmelstein | June 28, 2017
Despite the continued global diffusion of solar energy technology, solar power production is being undermined by atmospheric particulate pollution. Researchers from the U.S. and India say that energy output from solar cells is being reduced more than 25% by dust accumulation in some regions.
The most heavily impacted areas, including China, India and the Arabian Peninsula, are also those investing the most in solar energy systems.
An assessment of pollution-related energy generation effects was first conducted for the dust-covered rooftop solar installation at the Indian Institute of Technology-Gandhinagar (IIT). Measurements made by researchers from Duke University (Durham, NC), University of Wisconsin (Madison) and IIT indicated that cleaning the panels every few weeks boosts efficiency by 50%.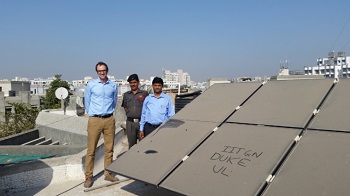 Duke University engineering professor Michael Bergin (left) stands with IIT-Gandhinagar colleague Chinmay Ghoroi (right) next to that university's extremely dusty solar panel array. (Credit: Michael Bergin, Duke University)
About 92% of the dirt was composed of dust, with the remainder identified as carbon and ion pollutants associated with anthropogenic activity. Light is blocked to a greater extent by the smaller man-made particles than by natural dust, implying a greater contribution of human activity to energy loss.
The researchers devised a new modeling scheme, which also considers the sunlight-screening impacts of ambient atmospheric particles, and estimates the total loss of solar energy production for any region. The U.S. has relatively little migratory dust, but losses of 17-25% or more, assuming monthly cleanings, are possible for Northern India, Eastern China and the Arabian Peninsula. These losses increase to 25-35% if cleanings are performed every two months.
Dust is a greater agent of solar power loss than man-made pollutants in the Arabian Peninsula, while the reverse is true for many regions in China and India.