Laser-based Coating Process for Cylinder Corrosion Protection
S. Himmelstein | June 12, 2017
A laser cladding technology which enables faster production of coatings with more flexibility in materials than the traditional arc welding process has been developed by Bosch Rexroth (Lohr am Main, Germany) and the Fraunhofer Institute (Munich, Germany). This first in a new series of Enduroq coatings was formulated in response to demand for more flexible protective coatings, and in anticipation of growing legislation which includes the banning of chrome 6 after 2017.
Until recently, the Enduroq 3000 and 3200 coatings were applied to offer a highly corrosion-resistant layer, excellent in very aggressive environments like offshore applications. This coating was applied by using electric arc, or plasma transferred arc (PTA), which welds the Ultimet powder onto the cylinder. However, the process was time consuming and had limited flexibility for using other powders, and could not be extended to other businesses.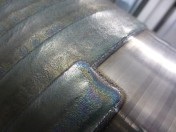 Bosch Rexroth laser-based coated cylinder. (Source: Bosch Rexroth)
The new Rexroth Enduroq coatings utilize the highest power laser in the industry. The 20 kw machine located in Boxtel, the Netherlands, is equipped with a large head that allows faster production of the coating.
For the new Enduroq 3 layer, Rexroth uses the laser cladding process to weld a cobalt based alloy (Ultimet) onto a steel rod. Piston rods up to 600 mm diameter can be equipped with the welded overlay. Characteristics match those of the Enduroq 3000 series, although the layer is applied via an improved coating process as the technology is more tunable and can utilize different laser temperatures. Also, unlike the PTA process, laser cladding can be used to coat the grooved surfaces needed by cylinder integrated measuring systems. This means more applications, including those involving harsh environments, can implement Rexroth's positioning measuring and condition monitoring device.
Enduroq 3 is ideal in applications where mechanical impact is higher. It offers optimal cylinder functionality in high corrosion industries such as deep water offshore drilling. A single layer surface technology, Enduroq 3 has no porosity and zero permeability, guaranteeing long lasting surface protection.