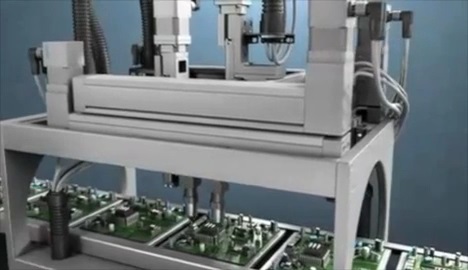 Electronics Assembly with the Festo EXCM GantryFesto, a global manufacturer of process control and factory automation solutions, has introduced two new and larger models to its family of planar gantries. The EXCM-30 and EXCM-40 expand the capabilities to bigger workspaces and higher load capacities than were previously offered by the EXCM-10 gantry. The EXCM series are ideally suited as plug-and-play subassemblies in assembly, handling systems and medical laboratory devices in compact installation spaces.
The gantries are designed to be mounted directly on a worktable. The EXCM-30 is ideal for small parts assembly and handling applications or for use in electronics manufacturing or laboratories. It features a compact, flat design for payloads up to 3 kg. The EXCM-30 can be configured with X-axis strokes from 3.5 to 27 inches (90-700 mm) and Y-axis strokes in 2 inch (50 mm) increments from 4 to 20 inches (110-510 mm). The larger EXCM-40 can handle payloads up to 4 kg and has a working area of up to 78 inches (2000 mm) in the X direction and 39 inches (1000 mm) in the Y direction. (Full specifications available here)
Both gantries feature X-axis and Y-axis slides that move via a toothed belt powered by two fixed motors in position-controlled (closed loop) operation. The motors can be configured in multiple orientations, depending on the application.
A controller package that consists of the CMXH controller and two motors is available for both models. The controller features safe-torque-off (STO) functionality in compliance with EN 61800-5-2 for enhanced safety. The controller operates on a supply voltage of 24-48 V.
Visit Festo for additional information.