DOE Approves Golden Pass LNG Project
David Wagman | April 27, 2017
The U.S. Energy Department has given final approval to the $10 billion Golden Pass export terminal, a joint venture of Qatar Petroleum (70%) and ExxonMobil Corp. (30%) to export up to 2.21 billion cubic feet of liquefied natural gas (LNG) per day.
Golden Pass may now export LNG to any non-Free Trade Agreement (FTA) country not prohibited by U.S. law or policy from the proposed terminal near Sabine Pass, in Texas.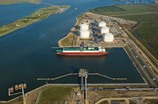 Aerial view of existing Golden Pass terminal.A final investment decision will be made following government and regulatory approvals. If developed, construction is projected to take five years.
The project would be integrated into an existing import terminal, and would include liquefaction facilities as well as upgrades to the existing terminal.
The current Golden Pass terminal includes five 155,000 cubic meter LNG storage tanks, two marine berths capable of offloading various sized ocean-going LNG carriers, and process facilities capable of regasifying LNG to produce approximately 2 billion standard cubic feet of natural gas per day.
Proposed facilities include three liquefaction process trains, each with a nominal throughput of 5.2 million metric tons per annum (MTA), associated treatment, power and utility systems, and interconnections to existing import facilities and controls.
Pipeline upgrades will include installation of approximately three miles of 24-inch pipeline to facilitate bi-directional flow capability and improve system hydraulics. Additionally, installation of additional compressor stations will facilitate the receipt and redelivery of up to 2.6 billion cubic feet per day of natural gas supply to the proposed export facility.
The Energy Department's (DOE's) Energy Information Administration (EIA) says that it expects U.S. natural gas exports to overtake imports in 2018 when they will reach nearly 10 Bcf/d. As recently as 2015, exports totaled around 5 Bcf/d, EIA says. The EIA's Short Term Energy Outlook projects an average dry natural gas production rate of 73.1 Bcf/d in 2017, the second highest on record.
Altogether, DOE has authorized a total of 19.2 Bcf/d of natural gas exports to non-FTA countries from planned facilities in Texas, Louisiana, Florida, Georgia, and Maryland.
Federal law generally requires approval of natural gas exports to countries that have an FTA with the United States. For countries that do not have an FTA with the United States, the Natural Gas Act directs the Energy Department to grant export authorizations unless the Department finds that the proposed exports "will not be consistent with the public interest."
Among other factors, DOE says it considered the economic, energy security, and environmental impacts, including macroeconomic studies that showed positive benefits to the U.S. economy in scenarios with LNG exports up to 28 Bcf/d. DOE says that it determined that exports from Golden Pass, jointly owned by Qatar Petroleum (70%) and ExxonMobil (30%), for a period of 20 years, was "not inconsistent" with the public interest.