AFLAS® FFKM - A New Ultra-high Temperature Perfluoroelastomer
Shawn Martin | April 25, 2017
AGC Chemicals Americas, Inc. is expanding its AFLAS® Fluoroelastomer product line with an FFKM Series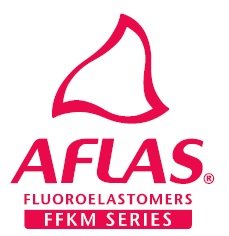 Image Credit: AGC Chemicals Americas, Inc. perfluoroelastomer. The ultra-high temperature compound solution has a service temperature of up to 160 degrees Celsius and features outstanding chemical resistance.
The FFKM compound, AFLAS CB-047, has its chemical structure derived from tetrafluoroethylene and perfluoroalkylvinylether, which contributes to its outstanding resistance to chemical, oils, solvents, and other caustic substances. It is also a peroxide-curable FFKM full compound that does not require any filler.
To achieve the best results, AFLAS CB-047 requires a post-cure at temperatures up to 300 degrees Celsius in an inert environment such as nitrogen gas. Actual molding and post-curing condition will be dependent on the part size and its intended use.
Typical applications include o-rings and gaskets that are used in aggressive environments such as in oilfield or semiconductor parts.