An autonomous energy hydrogen system developed by Toshiba Corporation is now providing electricity for a train station in Kawasaki City, Japan. The H2One™ energy scheme includes a photovoltaic power generation system, a storage battery, water-electrolysis system, hydrogen storage tank, and fuel cells.
The installation is designed for use in both normal, day-to-day operations and in the event of a disaster that knocks out power supply. In emergencies, the H2One™ will provide uninterrupted, off-grid electricity to light part of the station concourse and its lavatories. At other times, the system produces hydrogen and generates electricity, lowering consumption of mains electricity. In winter, hot water will be circulated though benches at the station.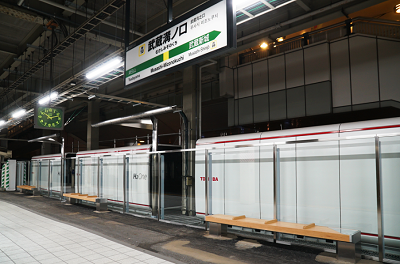 Autonomous off-grid hydrogen energy system at a train station in Kawasaki City, Japan. (Source: Toshiba Corporation)
Toshiba's H2EMS™ management system provides optimal control of overall operation, including hydrogen production and power generation and storage. It provides data on renewable energy supply-and-demand which can be used to stabilize electricity output.
Toshiba has already delivered H2One™ units to the Kawasaki Marien public facility and Higashi-Ogishima-Naka Park in the Kawasaki Port area, and to an artificial island and pier in the Port of Yokohama.