The Norwegian Coastal Administration could build one of the world's first full-scale ship tunnels after the Stad Ship Tunnel project was adopted as part of the Norwegian National Transport plan.
The 1700-meter-long tunnel (5,577 feet) would be 49 meters tall (160 feet) and 36 meters wide (118 feet). The tunnel could be built in less than four years and would allow ships to navigate more safely through the Stadhavet Sea, one of most exposed and dangerous areas along the Norwegian coast.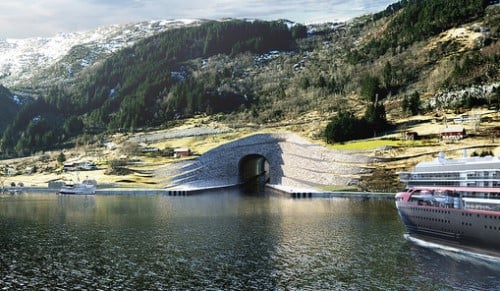 Artist's concept of a ship entering the tunnel.Commercial traffic will be given priority, especially passenger traffic. But leisure boats and other vessels can also use the tunnel.
The ship tunnel is estimated to cost of NOK 2.7 billion ($313 million). Funding worth NOK 1.5 billion was included in the first part of the NTP, 2018 to 2023.
Vessels could be up to 21.5 meters wide, and would have a clearance of 2.5 meters on each side. Developers say this has undergone testing in a model tank, where the aim, among other things, was to investigate the best speed to maneuver through the tunnel.
At both ends there will be diagonal leading constructions around 160 meters in length for entering. Safety zones outside the openings will be set aside and free of other vessels in case an entering vessel needs to reverse its position. In addition, there will be an area dedicated as the "point of no return" for vessels going into the tunnel.
The distance between vessels passing through the tunnel is expected to be around 400 meters (1,300 feet). With this distance, as many as five ships an hour will be able to pass.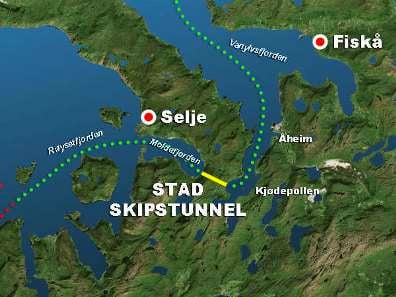 Location of the proposed 1700m tunnel.Conventional blasting is expected to be used to build the tunnel, including use of underground drilling rigs and pallet rigs. Overall, some three million cubic meters of rock are expected to be removed, equal to around eight million tons of pulp. Around two thirds of this will be bigger blocks from blasting. The rest will be smaller mass typical of tunneling operations.
The combination of wind, currents, and waves around this part of the coastline make this section a particularly demanding part of the Norwegian coast. Studies in 2000-2001 and 2007-2008 analyzed a number of routes for the tunnel. The final route was selected where the Stad Peninsula is at its narrowest and where the waters are sufficiently shielded to allow shipping to use the tunnel in most weather conditions.