Valve Solutions for Pharma and Biotech
S. Himmelstein | March 27, 2017
New automated valve solutions from Festo enable the company to offer automation from control cabinet to pipe for steam, inert gases, water, cleaning solutions, and powders applications.
The products encompass the company's VZBE ball valves, VZXA angle seat valves, VZQA pinch valves, DFPD quarter-turn actuators, VSNC NAMUR pilot valves, and the SRBC family of open/close sensor boxes. The valves with tri-clamp and welding connections feature 316-stainless steel bodies and Teflon seats and are rated up to 1,000 psi and 400° F (200° C).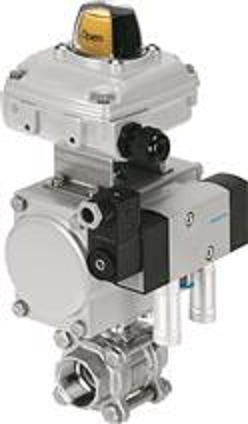 Automated ball valve assembly. (Source: Festo)
Festo R&D efforts are currently focused on integrating advanced diagnostics into the valves to support Industry 4.0 and the industrial Internet of Things functionality for greater flexibility and operational performance.
Along with components sized to customer specifications the company can provide fully assembled and tested valve terminals and automated valve assemblies for plug-and-play installation or parts ready for assembly all in one box with a single unique part number.