Amazon to Test Drone Deliveries in UK
John Simpson | August 12, 2016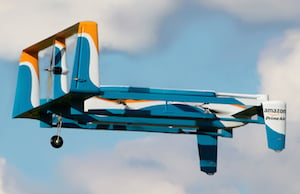 Prime Air vehicles weigh less than 55 pounds and are designed to fly at an altitude of under 400 feet. Image credit: Amazon.The UK government will allow Amazon to trial several technologies designed to facilitate drone delivery of parcels in the future.
A cross-government team supported by the UK Civil Aviation Authority (CAA) has given Amazon permission to explore three services: beyond-line-of-sight operations in rural and suburban areas; testing of sensor performance to make sure drones can identify and avoid obstacles; and flights in which one person operates multiple highly automated drones.
The testing is designed to enable Amazon and the UK government to understand how drones can be used safely and reliably in the logistics industry. It will also help identify what operating rules and safety regulations will be needed to help move the drone industry forward.
Amazon anticipates that its Prime Air service in the future will deliver packages of up to five pounds in 30 minutes or less using small drones. Flying under 400 feet and weighing less than 55 pounds, Prime Air vehicles will take advantage of "sense and avoid" technology, as well as a high degree of automation, to operate beyond the line of sight to distances of 10 miles or more.