A portable telemedicine solution from Lexington, MA-based swyMed is designed to connect patients with doctors even in the most remote locations.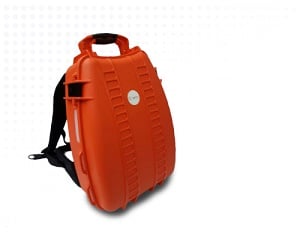 The DOT Telemedicine Backpack. Source: swyMedProviders can use the DOT Telemedicine Backpack to assess/monitor patients in an ambulance (i.e. mobile telestroke or critical transports), facilitate paramedicine programs, and prevent expensive and unnecessary emergency transports.
The lightweight plug-and-play system includes everything needed for a reliable video telemedicine encounter, including four high-grain antennas, redundant dual-modem connection, and a 15-hour battery. The equipment can be quickly deployed to begin a consultation, particularly important in emergency scenarios
The DOT Telemedicine Backpack interfaces with many electronic medical record and picture archiving and communication systems, as well as certified third-party diagnostic equipment.