Gas turbine blades produced using additive manufacturing technology have been subjected to full load engine tests by Siemens.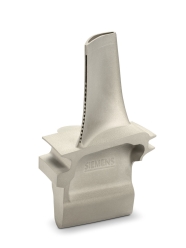 Siemens finished its first full load engine tests for gas turbine blades produced by additive manufacturing. Source: Siemens
The components for the blades were tested at 13,000 rpm and temperatures in excess of 1,250 C (2282 F)at the company's industrial gas turbine factory in Lincoln, UK. .
The 3D-printed blades, featuring a completely revised and improved internal cooling geometry, were produced from a high-temperature-resistant, powdered polycrystalline nickel-based superalloy and installed in a Siemens SGT-400 industrial gas turbine with a 13 MW capacity. At full load each of these turbine blades travels at over 1,600 km/h and carries 11 tons (see video).
With additive manufacturing technology, the engineers reduced the period of time from the design of a new gas turbine blade to its production from two years to two months.