Video: The debut of a recyclable offshore wind turbine blade
S. Himmelstein | September 13, 2021
Siemens Gamesa has produced its first six fully recyclable offshore wind turbine blades at its factory in Aalborg, Denmark. The company plans to deploy the first 81 m long RecyclableBlades at the 342 MW Kaskasi offshore wind power plant operated by RWE in Germany.
The blades are fabricated with a new type of resin easily separated from the other components at the end of a blade's working life, removing a major obstacle encountered in previous efforts to achieve full recyclability.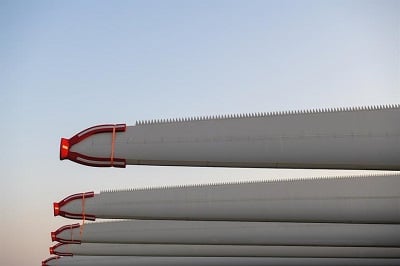 Siemens Gamesa produced its first recyclable offshore wind turbine blades in Aalborg, Denmark. Source: Siemens GamesaAfter decommissioning, the blade will be immersed in a mild acidic solution heated with renewable energy sources to separate the resin from the fiberglass, plastic, wood and metals.
The process will allow the materials to be recycled for new purposes, including in the automotive industry or in consumer goods. The same molds currently used to manufacture its wind turbine blades for offshore installations can still be used, as the dimensions of the RecyclableBlades and most of the materials remain unchanged.