A new growth medium developed at Syracuse University, NY, enhances the production and harvesting of microalgae for biofuels and chemicals.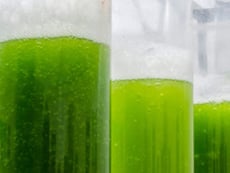 Algae in tubes. Source: Syracuse University
Microalgae are seeded in Tris-Acetate-Phosphate-Pluronic (TAPP) at 15 degrees C. When the temperature is increased by seven degrees, the medium becomes gelatinous and microalgae grow in clusters that are up to 10 times larger than those grown in traditional material.
Once they are grown, the temperature is decreased, and the medium is returned to a solution. The algae are separated out through gravity, and can then be harvested.
The system addresses three common problems in algal production. It prevents algae from growing on the sides of a container and allows light penetration to stimulate growth. This feature also eliminates the need for constant stirring to ensure light transmission. And when TAPP is converted back to a solution, algae can be more easily separated out and removed from the container