Next time you're in the supermarket shopping for canned soup or vegetables, rather than a picture on the label you just might see what's inside.
That's because packaging companies and plastics makers are launching see-through alternatives to replace the venerable metal can.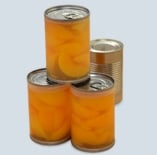 TruVue see-through plastic can. Credit: SonocoSonoco Products Co. has rolled out a clear plastic can called TruVue, which recently arrived on grocery store shelves in the Southeast United States. South Carolina-based McCall Farms is using the can to introduce a line of ready-to-eat vegetables under the Glory Farms brand. The company calls TruVue the most innovative canned vegetable packaging in nearly 200 years.
Plastics manufacturer Milacron Holdings Corp. also launched a version of the see-through can. The company says it will soon announce a customer for the Klear Can, reported to be Del Monte Pacific.
The engineering behind the cans has taken time to develop because earlier versions couldn't withstand the rigors of the in-container sterilization process and would have required hefty investments in new can-line machinery and equipment.
Sonoco says it overcame those challenges with the TruVue can, made with the company's FUSION Freshlock Technology, enabling it to perform in high-temperature, high-pressure environments. Moreover, the can may be run on the same equipment used for traditional metal cans.
The can consists of a multilayer plastic substrate that allows consumers to see the product inside while incorporating an easy-open metal lid and metal bottom that Sonoco says consumers prefer on a traditional metal can.
The same holds true for the Milacron's Klear Can technology, as shown in this video. Klear Can uses the same filling, seaming and retorting machinery as metal cans, so minimal downstream investment is required. Manufacturers also have the ability to mold cans at the filling site to save time and money.
Milacron says the Klear Can, despite being lightweight, is stackable and dent-resistant, cost competitive to metal cans and fully recyclable.
Both Milacron and Sonoco say changing consumer preferences are driving the demand for innovations in packaging that promise freshness, quality and authenticity.