An invasive procedure that entails inserting a catheter into the heart via an artery or vein is traditionally used to diagnose and locate arrhythmias – irregular heart rhythms. Now such cardiac mapping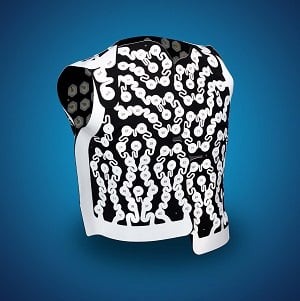 The multi-electrode vest gathers cardiac electrophysiological data from the body surface. Source: Medtronic can be accomplished simply by donning a 252-electrode sensor vest developed by Medtronic.
The CardioInsight Noninvasive 3D Mapping System, which received U.S. Food and Drug Administration 510(k) clearance, documents a wide range of irregular heart rhythms in the upper and lower chambers of the heart, and provides electroanatomic 3D maps of the heart (see video).
The vest technology collects electrocardiogram (ECG) signals from the chest, and combines these signals with data from a computed tomography (CT) scan of the heart. The garment contours to the patient's body and allows for continuous and simultaneous panoramic mapping of both atria and both ventricles, which cannot be achieved with current invasive methods. The 3D cardiac maps can be created by capturing a single heartbeat, and enable rapid mapping of these heart rhythms.