As the Donald Trump Administration gets set to take the reins of government on January 20, those who make their living designing and manufacturing products are wondering how the technology development climate will change for everything from autos and consumer electronics to energy systems and medical devices.
At this early stage, no one knows for sure what sectors of technology will prosper or contract as a result of policies coming out of a new Administration and Republican-dominated Congress. Still, we can get some hints on future directions from policy statements coming from the new president, as well as from the track records of his proposed cabinet heads.
For a preview of what engineers and scientists might expect from Washington in the years just ahead, Engineering360 contributing editor Larry Maloney spoke with Marjory Blumenthal, director of the Science, Technology and Policy Program for the nonprofit RAND Corporation, one of the nation's largest non-partisan research organizations. In a career that includes serving as executive director of the President's Council of Advisors on Science and Technology, Blumenthal has for many years tracked and analyzed the impact of government policies on technology.
Maloney: Can we expect a boost in technology development, if the Trump Administration succeeds in getting major tax cuts for business?
Blumenthal: First of all, regardless of tax policy, science and technology have always been key elements in helping to make America great. That said, substantial tax cuts could lead established companies to expand capacity or increase their R&D, if they choose to take advantage of a more favorable tax policy.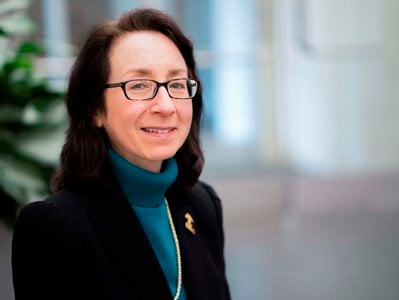 Marjory Blumenthal, RAND Corp.For technology start-ups, it's a different story, since many have yet to generate enough income to benefit from business tax cuts. However, a change in the overall tax climate, such as lower payroll taxes, can affect business choices for both established companies and start-ups. So we are looking at the potential for a more encouraging outlook for technology firms.
But we have to wait for the details on the new Administration's tax proposals, such as whether they will favor U.S.-based manufacturing, or whether certain sectors of the economy will be targeted. For example, the new President has noted the need for greater food security, which could boost agricultural or food-processing R&D.
Maloney: Trump has been critical of the H-1B visa program, which allows U.S. employers to temporarily employ foreign workers in specialty occupations. If that program is substantially curtailed, how big a blow will it be to technology firms?
Blumenthal: H-1B has attracted controversy from time to time, including criticism from IEEE and other major engineering societies, who argue that U.S.-based engineers should be given priority for jobs that are being filled by foreign nationals. Still, the program has brought into this country substantial numbers of professionals, and any change in the overall pool of talent is going to have an impact.
But there are other factors to consider. For example, R&D is already global, so companies can shift development programs from country to country in response to resource availability and local needs.
Secondly, from past research I've seen that companies faced with shortages in their traditional labor pool learn to shift gears and find new labor resources. For the U.S. tech field, a tighter policy on work visas for foreign nationals could produce the silver lining of greater job opportunities for women and underrepresented minorities. You could also see higher wages for U.S. technology professionals, as well as expanded training programs.
Maloney: Among early Trump proposals, the idea of launching a massive infrastructure development program has received much attention. How would such a program benefit technology development?
Blumenthal: If we look at the most recent government infrastructure stimulus program – the Obama Administration's American Recovery and Reinvestment Act of 2009 – much of the focus was on "shovel-ready" projects. So the question with a Trump infrastructure program will be how much of it will focus on immediate construction versus encouraging longer-term applied R&D in new approaches to infrastructure development.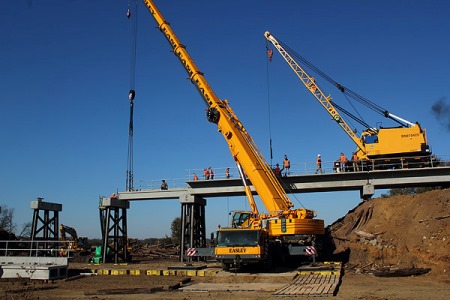 "Interesting" opportunities may exist for new infrastructure projects, Blumenthal says.There are a number of interesting opportunities for new infrastructure technologies, such as civil engineering innovations to reduce flooding risks, use of smart sensors to monitor aging roads and bridges, or linking data on infrastructure status and use to management systems. Engineers also are working on new materials used in roads and other structures, as well as energy infrastructure like smart grids for electric power.
For airports, we could see improvements in air traffic control systems, as well as to access routes that link surrounding areas with airports.
Maloney: With the Trump Administration's call for reduced regulation, can we expect faster approval of new drugs and medical devices?
Blumenthal: First of all, the tension between concerns over safety versus getting new therapies to market faster is a longstanding one. So it is likely that the amount of flexibility in the introduction of new medical products will vary, depending on the safety risks associated with the product.
At the same time, we see a great deal of development in personalized medicine, whether it is leveraging more data science or advances in genetics, or new medical products based on progress in nanoscience. As a result, there is likely to be a steady stream of new therapies that will put continued pressure on the government approval system.
Finally, our recent experiences with pandemic flu, Ebola and Zika call into question what it takes to get new vaccines developed, approved and deployed, and there is a lot of interest now in expediting those processes. We find the same kind of urgency in development of new antibiotics, given the rise in antibiotic-resistant microbes. The next time there is another pandemic, you can be sure there will be another public outcry and a crisis response.
The question is whether we can develop a more systematic, long-term approach to such threats or whether we will continue in a reactive mode.
Maloney: Moving to the energy field, how will the new Administration's strong support of fossil fuels affect green energy, which has been growing rapidly?
Blumenthal: Given the rise of interest in fossil fuels, more investment money is likely to be spent on science and technology for that field – and less, at least in the federal government portfolio, for renewables. Yet green energy will likely remain on a growth path because of the progress that has been made, including technical improvements, declining costs, and strong interest or demand from millennials, companies, and even college campuses to achieve a degree of energy independence, while reducing pollution.
Maloney: What are some of the technologies that stand to gain, given the new president's vow to boost fossil fuels, such as coal?
Blumenthal: Research by RAND in 2011 showed that construction activity on coal-burning power plants has diminished significantly in the U.S., which has implications for design and project management capabilities. There is a real question mark about what it would take to revive and amplify the level of engineering activity needed to expand coal-fired plants.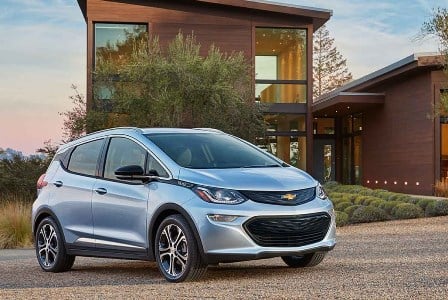 Interest in electric vehicles, like the Chevrolet Bolt, likely will remain strong, Blumenthal says.But if you do succeed in revitalizing coal as a power source, possibly even including construction of new plants, you would expect more activity in technologies related to plant efficiency, carbon capture and storage, and mine safety. In other fossil fuel contexts, such hydraulic fracturing to extract oil and gas, you may also see more opportunities for technical solutions that make fracking safer and more environmentally friendly.
Maloney: With key members of the new Administration questioning whether global warming is a scientific fact, would you expect reduced opportunities for technologies to protect the environment?
Blumenthal: The natural instinct is to say that there will be less attention given to environmental protection. However, a number of specific triggers could prompt continued investment in pollution-control technology over and above what is required under existing laws and regulations.
A good example is the public outcry that followed the contaminated water situation in Flint, Mich., which is by no means an isolated incident. There is going to be a strong demand for better infrastructure for water treatment, as well as technologies to develop and preserve potable water in the face of drought. In fact, the new president has talked about water security as a global concern.
Maloney: The auto industry seems to be facing a mixed bag of policies under the new president, including an end to tax credits for electric vehicles and delays in fuel-economy regulations.
Blumenthal: When assessing the new Administration's impact on automotive, remember that this industry is global. Even if regulations were to change in the U.S., auto companies still must deal with regulations and consumer tastes abroad, such as demands for greater safety and fuel efficiency.
Regardless of government policies, interest in electric vehicles will likely expand, as a result of lower prices, improved battery technology, and growth in the network of charging stations. Also independent of government policy is the shift from the old-fashioned car to one that is increasingly a computer and battery on wheels. That process has brought into the marketplace new players that are developing everything from new safety features to autonomous cars.
RAND, for example, has a new project aimed at planning for technologies and operational approaches that could lead to zero auto fatalities over the next few decades.
Maloney: To what extent will U.S. high tech firms, such as those in the consumer electronics field, be hurt by the new president's goal of scrapping trade agreements and reining in manufacturing outside the U.S.?
Blumenthal: Like the auto industry, consumer electronics companies have truly global supply chains. Within even very small devices, there are components from multiple countries. It would be hard for companies to make a comprehensive change in supply chains, but clearly there will be pressure on companies to see if more manufacturing can be done domestically. Market forces have already led some manufacturers, mostly outside the high-tech field, to return some assembly operations to the U.S.
If changes in trade agreements lead to a more restrictive environment, U.S. companies may also have a more difficult time importing critical raw materials, which could benefit technologies aimed at recovering and reusing such materials.
Maloney: With security issues ranking high in the list of Trump priorities, what are some of the technologies that will benefit in the years ahead?
Blumenthal: There's no question that there will be more focus on technologies for cybersecurity, an area that relates to virtually every sector of society – individuals, corporations and government. Nearly everyone has experienced a data breach, and many have experienced identity theft.
The fundamental challenge of achieving trustworthy computing and communications in an untrustworthy environment will continue to spur R&D and tech innovation. RAND, for example, has done a lot work on the scope and implications of the cybersecurity challenge, as well as on how law enforcement agencies use technology both for homeland security and general police work. These include: sensor systems, information sharing, data analytics and language translation. There are also new opportunities in emergency response and warning systems.
Maloney: Do you also see more opportunity for biometric solutions for cybersecurity, such as voice recognition, fingerprints, and the like?
Blumenthal: That technology has been expanding steadily since the 1990s, and it has gotten a lot better. Experts have been exhorting us to move away from passwords, which points to more biometric-based security.
Maloney: Can you cite an area of technology that might get an unexpected shot in the arm from President Trump?
Blumenthal: One area to watch is the space program. The president-elect has spoken favorably of the opportunity represented by space exploration to advance technology and industry, as well as to inspire kids to be interested in the STEM field. Space technologies are global, and they are a vehicle for advancing fundamental science and technology across a wide range of domains.
Maloney: Looking at your responses to many of these questions, a clear message that comes through is that, regardless of who is in the White House, strong market and demographic forces will continue to propel advances in technology.
Blumenthal: Absolutely. The inexorable expansion of science and technology feeds on itself. In the health field alone, momentum continues to build in such important areas as personalized medicine and technologies that allow seniors to live independently longer and that empower people with various disabilities. So there are countless opportunities to apply new science and engineering methods, no matter who leads government.