Supercap Could Be Preferred Power Source for Pacemakers
Engineering360 News Desk | January 10, 2017
An ultra-thin supercapacitor is being developed as a smaller, more efficient alternative to the batteries currently used in most cardiac pacemakers today. A University of Connecticut graduate student is designing the micro-scale device to power a pacemaker for the life of the patient.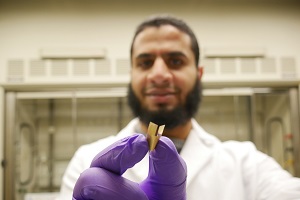 Ph.D. student Islam Mosa developed an ultrathin supercapacitor capable of generating enough power to sustain a cardiac pacemaker. Source: Islam Mosa.Unlike bulky batteries which must be replaced as the charge weakens, and which contain potentially toxic components, the new micro-scale power source is thinner than a human hair and composed of biocompatible materials. The supercapacitor uses the patient's own blood serum as an electrolyte rather than draw its power from a conventional lithium-ion battery. The power system's efficiency allows it to maintain a charge for a long period of time, a feature that could make it suitable for other bioelectronic devices such as implantable neurostimulators, which are used to treat some patients with Parkinson's disease.
Ph.D. student Islam Mosa recently received a top honor for conveying the core concepts of his supercapacitor research in an international competition sponsored by Universitas 21, a network of research universities around the globe.
Mosa won the People's Choice Award for a three-minute video presentation of his doctoral thesis, capturing a record number of online votes.