Diversity in personal vehicle choices is greater than ever, now that cars can be equipped with electric or hybrid drives, autonomous capability, and other customizable features. By understanding how users drive and operate these vehicles, automotive engineers can design more efficient modes of transport that are tailored to an individual's needs.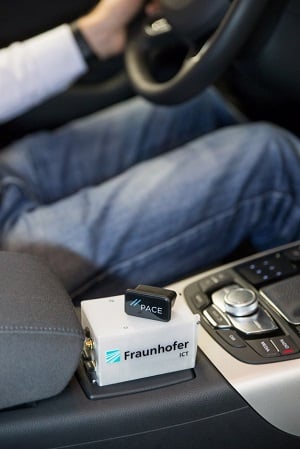 The data logger is useful when developing new hybrid and electric vehicles, and also increases the efficiency of vehicle fleets. Credit: Fraunhofer ICTTo aid in this endeavor, researchers from the New Drive Systems NAS project group at the Fraunhofer Institute for Chemical Technology ICT in Germany have designed a data logger that collects data from vehicles to provide insight into how they are used and by who. Relevant operational data from the journeys the car makes over a period of several weeks or months are recorded, helping researchers evaluate in a usage-specific way how a car is used, including characteristics such as route profiles or driving style: when does the driver drive more cautiously, when more aggressively?
Information is collected on standard powertrain parameters such as engine speed or lambda value (heat conductivity), or on the level of battery charge in an electric vehicle. This flexible configurability means the quality of the analyzed signals can be improved. By not recording non-relevant data, the prioritized parameters can be recorded at a higher scanning rate, and data from an external sensor such as a GPS module, an acceleration sensor, or a gyro sensor can be recorded and analyzed in combination with pure vehicle data.
In the first collaboration with an industry partner, an international original equipment manufacturer (OEM) is using it at the design stage for hybrid vehicles.
Another potential area of application is vehicle fleet management. Analyses allow operators to understand exactly how existing vehicles are deployed. Use scenarios that include route profiles and their respective energy needs allow operators to judge whether future investment in their fleets should go toward procurement of vehicles with a combustion engine, or purely electric vehicles, or hybrid vehicles.