Bendable Titanium Suspension Could Survive Blasts
John Simpson | December 29, 2016
A bendable titanium alloy suspension system inspired by the hard shell and flexible legs of ironclad beetles could hold the key to protecting future military vehicles from explosive impacts.
While the hulls of combat vehicles are protected from blasts such as mines or improvised explosive devices, other parts critical to vehicle operation, such as the suspension, can still be damaged. In many such instances, personnel must be rescued by other military units.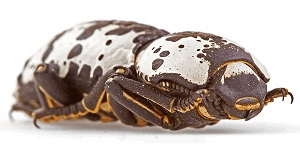 : The bendable suspension system was inspired by the hard shell and flexible legs of the ironclad beetle. Image credit: Public domain image by Alejandro Santillana. First developed by the United States Naval Ordinance Laboratory in the 1960s, the memory metal alloy is made from the same type of material used in flexible glasses and allows the suspension to "bounce back" into shape after an impact so that the vehicle can continue its mission. Using memory metal would also mean that the spring could be removed entirely from the suspension, strengthening and simplifying the system further, BAE says.
A prototype of the suspension system has already been constructed and tested by a team of specialists at BAE Systems. The small-scale prototype underwent five increasingly powerful explosive tests, showing "significant resilience" against the blasts, according to BAE. Now, the company's engineers are investigating the possibility of adapting memory metal suspension for full-size combat vehicles.
"This unique use of memory metals could prove a real game-changer for combat vehicles taking part in operations," says Marcus Potter, head of mobility at BAE Systems Land, UK. "Being able to adapt to changing situations is hugely important to maintaining effectiveness. This application of bendable titanium could give armed forces the required flexibility and survivability to complete tasks in challenging areas."