Sponsored content
Strong and Versatile Enough to Protect Soldiers and Industrial Assets
Saint-Gobain Hexoloy® Alpha Sintered Silicon Carbide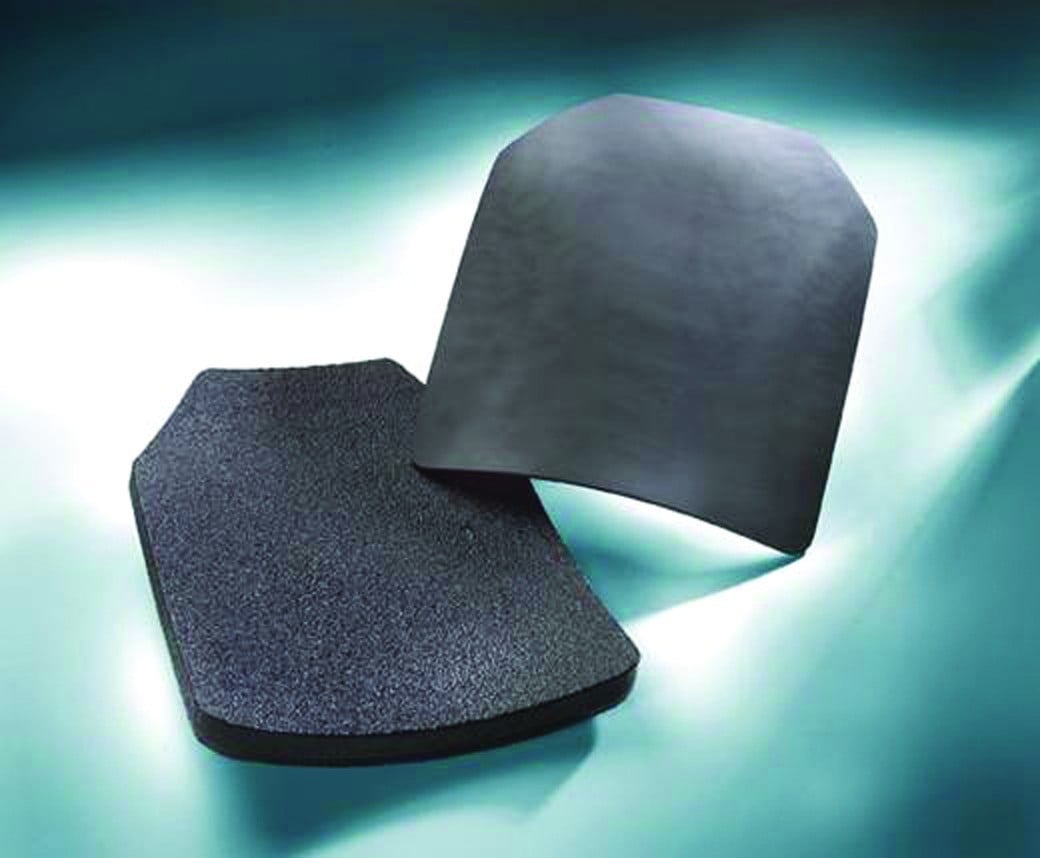 We have all seen body armor in the movies: a gunfight erupts, bullets fly and one of the protagonists is knocked over backwards. She's been hit! Is she mortally wounded? Predictably, she regains consciousness and opens her jacket to reveal an intact bulletproof vest with a shiny bullet perfectly mushroomed from impact. Impressive? Yes. Accurate? Not so much.
Bullet-resistant vests, or "body armor," has become standard equipment for our law enforcement and military. Maximum protection at minimal weight is the ever-advancing goal for body-shielding gear. The high hardness per unit weight makes ceramic materials like silicon carbide (SiC) an ideal candidate for stopping rifle bullets. In fact, SiC inserts, like those made of Saint-Gobain Hexoloy® when combined with other ballistic-resistant materials and inserted into protective vests, are the most common ceramics in top-performing hard body protection systems against high-velocity "armor-piercing" projectiles.
The impact and energy-dissipating characteristics of SiC lend themselves well to the requirements of stopping a bullet (and saving a life). Here is what really happens when a bullet strikes ceramic body armor.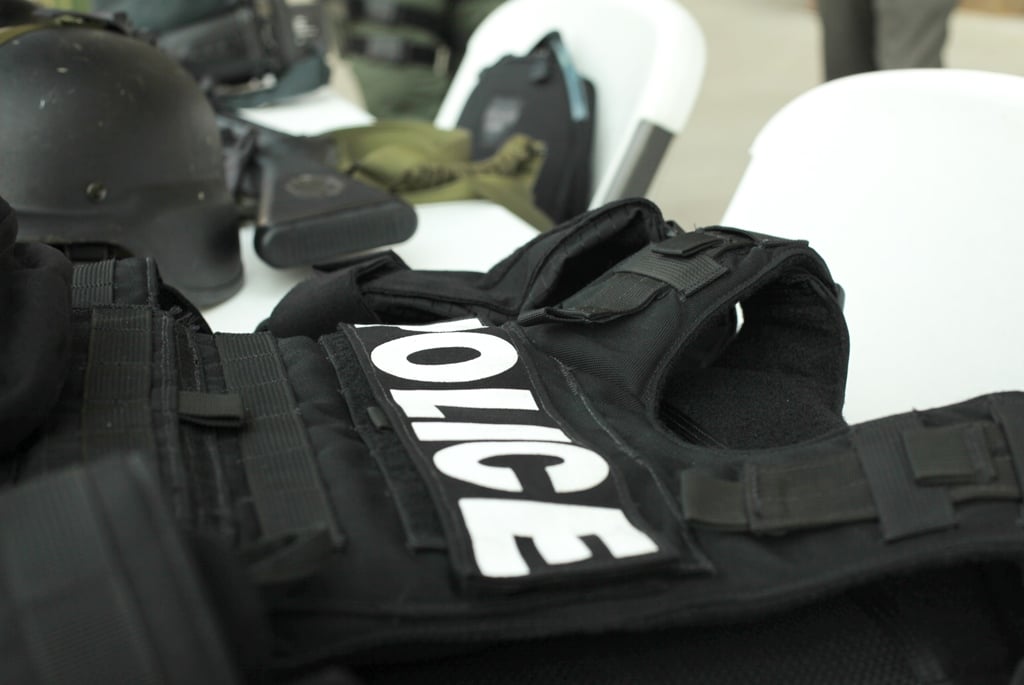 First, let's learn a quick lesson about ballistics (bullet science). For the most part, a bullet is composed of a case, powder charge and the bullet. Modern bullets have a jacket, which is a sheath of metallic alloy around a denser, harder core often made of steel or other very hard or dense materials. When a gun is fired, the powder charge is ignited, introducing energy into the system. The gun is of much greater mass, so most of the energy produced is imparted onto the bullet, giving it forward motion and kinetic energy. The body armor disperses this energy before the vest behind the Hexoloy® armor system is penetrated and the bullet reaches the body of the wearer.
The kinetic energy in an AK-47 round is about 2,000 joules, which is equivalent to one pound of high explosive. When the projectile comes in contact with the Hexoloy® plate, the bullet's jacket is stripped away and the hardened core impacts the much harder ceramic and shatters instantly. The armor system absorbs most of the energy and all of the bullet and ceramic fragments. Ultimately the wearer is protected against bullet penetration and any blunt trauma during the ballistic event.
Here is a slow-motion video of a 30-caliber round traveling over 3,000 feet per second and striking an SiC plate.
Silicon carbide was invented by Edward Acheson 125 years ago while trying to make synthetic diamonds. Hexoloy®, a special SiC, is almost as hard as a diamond but weighs 2.5 times less than steel—properties perfect for stopping high-velocity, armor-piercing projectiles as described above.
Strong enough to protect American war fighters and allies, Hexoloy® is also used in aggressive industrial applications every day. Hexoloy® can withstand temperatures in excess of 1,600° C (over 2,900° F) under load, is corrosion resistant to the strongest acids and alkaline materials, and resists wear in extremely abrasive applications such as mining. Hexoloy® SiC is one of the hardest high-performance materials available. Hexoloy® alpha sintered SiC will outperform other commercially available ceramics or metal alloys, including superalloys. Hexoloy® SiC is ideal for applications such as nozzles, pump and valve trim, paper and textile equipment components, chemical processing components, heat exchanger tubes and tube sheets, thermocouple protection tubes, kiln furniture, rollers for Roller Hearth Kilns, armor and more.

Its unique properties can make a significant difference in a wide variety of high-performance uses. Hexoloy® is available in six grades—SA, Enhanced SA, CG, SE, SB, SP and SG—engineered for specific processing techniques and applications.
Hexoloy® SA is a pressure-less, sintered form of alpha SiC, with a density greater than 98% theoretical. It has a very fine grain structure (4–10 microns) for excellent wear resistance and contains no free silicon, which makes it highly chemically resistant in both oxidizing and reducing environments. Hexoloy® SA is highly effective against high-velocity, very aggressive projectiles due to high hardness and other critical properties in armor applications.
Enhanced Hexoloy® SA exhibits reduced micro-porosity, which results in increased flexural strength and a higher Weibull modulus. It is well suited for use in critical applications, such as high stress loads, high rotational speeds, improved wear properties and low surface porosity.
Hexoloy® SE is extruded into long components and offers an excellent alternative material to metals, superalloys and other ceramics for applications such as chemical processing, high-temperature furnaces and other demanding, severe environment applications. Hexoloy® SE provides a full range of exceptional properties in one package, including extreme hardness, high strength, corrosion resistance, high temperature stability and high thermal conductivity.
Hexoloy® SP is a sintered alpha SiC material designed specifically for optimum performance in sliding contact applications, such as mechanical seal faces and product-lubricated bearings. This material improves upon the exceptional friction properties of Hexoloy® SA (sintered alpha SiC) through the addition of spherical pores. This "pore"-based lubrication mechanism allows Hexoloy® SP SiC to outperform conventional reaction-bonded and sintered SiCs in a wide variety of service conditions.
Hexoloy® SG SiC is a unique electrically conductive version of sintered SiC. The Hexoloy® SG grade offers a wide variety of desirable properties in one package, including excellent hardness, corrosion resistance and high temperature stability.
Hexoloy® SB and CG grades are high-performance, lightweight ceramic materials from Saint-Gobain designed to protect against current and emerging lethal ballistic threats. They can provide structural, vehicle, body or custom protection for law enforcement, security, civilian or military use. Saint-Gobain offers unparalleled design flexibility with the most innovative and consistent ceramics in the world for composite armor systems. Saint-Gobain's ceramic armor can be custom designed from a variety of shapes including complex curvatures. Saint-Gobain's extensive material portfolio and forming capabilities ensure a solution for any armor need, including unique machined tiles that accommodate complex shapes, holes and angles. Saint-Gobain can help you develop a customized armor solution for any ballistic protection application.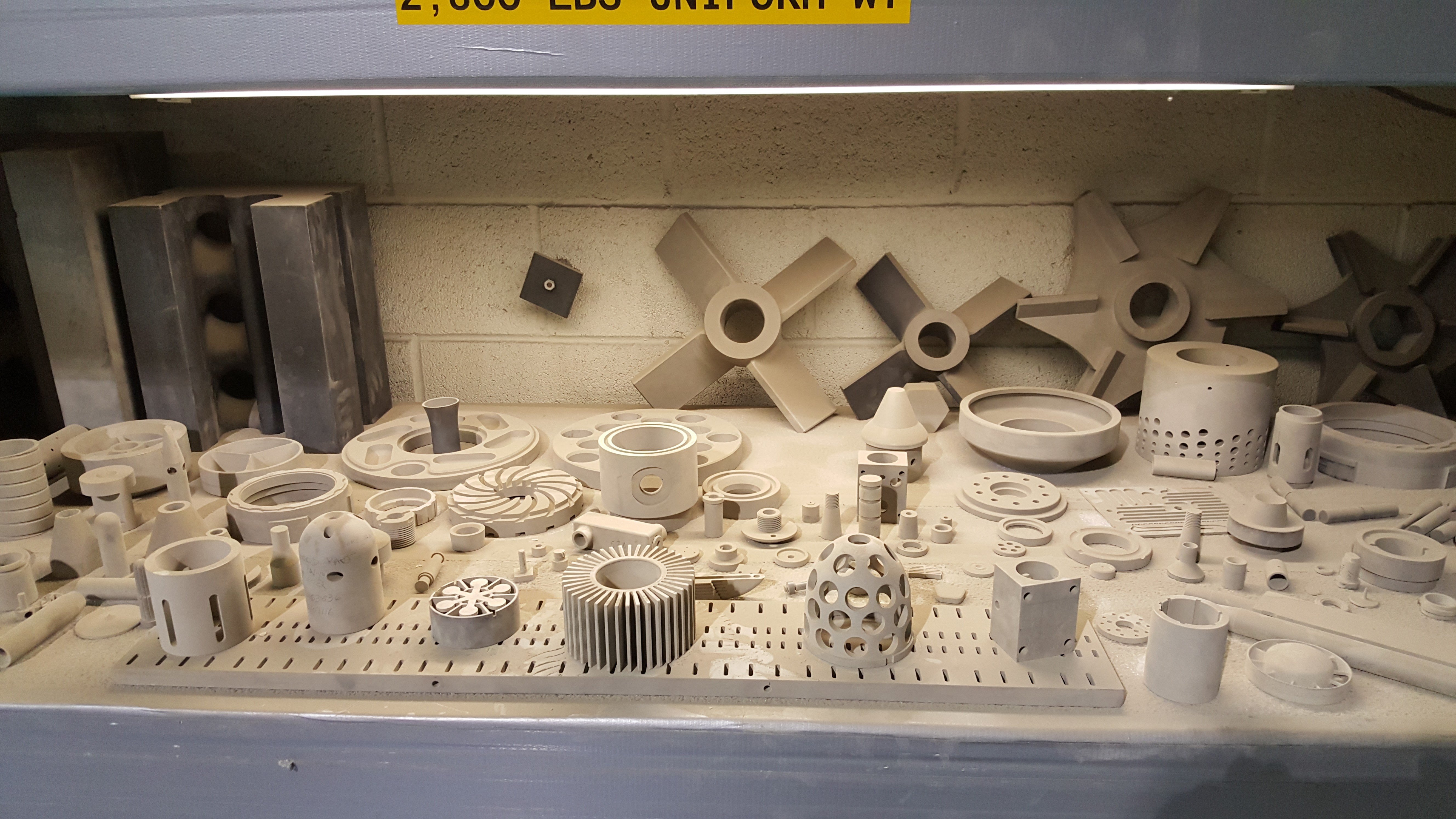 Green machined partsIn addition to ballistic performance, Hexoloy® SB also has excellent wear-resistant properties at a density as low as 2.8 g/cc! Recent SAR results generated from performing tests in accordance with ASTM 75G was 186.4 after two hours.
Saint-Gobain's modern SiC manufacturing facility located in Niagara Falls, NY, is a world-class center of excellence for the production of complex shapes and components. All Hexoloy® powder used in the production of Hexoloy® components is produced by Saint-Gobain in Niagara Falls to ensure the quality and consistency of the final product.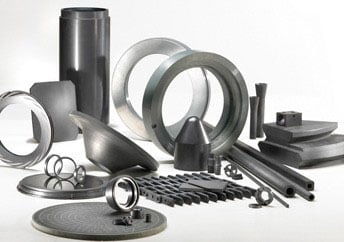 Sintered parts The creation of high-quality Hexoloy® parts is fundamentally a four-step process: forming, green machining (pre-sinter), sintering and grinding/finishing.
After developing Hexoloy® SiC materials for over 30 years, Saint-Gobain engineers have expanded the Hexoloy® portfolio to perform in a wide variety of armor, high-temperature, chemical and abrasive applications. Where conventional materials just won't do, Hexoloy® provides unique properties and performs according to your specific requirements. When you have an application that requires a robust and light material, consider Saint-Gobain Hexoloy®—a solution that has been highly refined after many years of material development and manufacturing improvement.
Saint-Gobain works with customers to understand application requirements and develop engineered solutions. Through the use of Hexoloy®, our customers realize greater productivity, reduced down-time, energy savings and new technology not possible with other materials.
Saint-Gobain Ceramics
Structural Ceramics
Hexoloy® Products
23 Acheson Drive
Niagara Falls, New York 14303
Telephone: 716.278.6233
Fax: 716.278.2373
E-mail: scdsales@saint-gobain.com
www.hexoloy.com and www.refractories.saint-gobain.com
The information, recommendations and opinions set forth herein are offered solely for your consideration, inquiry and verification and are not, in part or total, to be construed as constituting a warranty or representation for which we assume legal responsibility. Nothing contained herein is to be interpreted as authorization to practice a patented invention without a license. Hexoloy® is a registered trademark of Saint-Gobain Ceramics.