Standards Groups to Collaborate to Advance IIOT
Engineering360 News Desk | September 09, 2016
Proprietary code from one automation vendor to the next can confound machine and system compatibility on factory floors. A collaboration among three voluntary standards organizations could benefit interoperability, accelerated by manufacturers' pursuit of the Industrial Internet of Things.
The Organization for Machine Automation and Control, OPC Foundation, and PLCopen say they will work to advance protocols for automation device programming. They say they believe their combined efforts will help ensure all the necessary layers are in place to permit out-of-the box, plug-and-play communication between machines.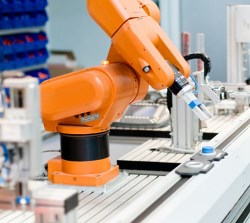 For manufacturers to reliably use and control machines from multiple vendors requires more consistent automation programming standards. Each of the organizations have memberships of manufacturers (end users), OEM machine builders, system integrators, software developers, allied suppliers, and government agencies. Those constituencies have led to creation of automation standards in various industry segments. Still, each organization has taken separate paths to assist industrial companies in reaching their automation and IIoT objectives.
PLCopen projects, for instance, led to standardized libraries for Motion Control, Safety, Reusability, and XML specification, as well as engineering interfaces for exchange and transparent communication. PLCopen says this work has helped to extend hardware independence from the software code.
OMAC has worked to advance ISA-TR88.00.02, a machine language standard better known as PackML. The standard, intended to make packaging machines report operational status consistently regardless of machine type, has helped packagers shorten time to production, simplify line integration, and improve reliability, OMAC says.
OPC Foundation developed Unified Architecture, a framework for industrial interoperability that delivers all communications layers needed for plug and play machine to machine communication, including integrated security and access rights.
Going forward, according to OMAC, the three groups aim to overcome interoperability challenges. By collaborating, they hope to develop companion specifications to standards they've already put in place and expect to improve quality and efficiency of data sharing at the machine, production line, and enterprise levels.