Engineers Without Borders USA: Fast Response After Natural Disasters
David Wagman | September 06, 2016
Natural disasters strike almost daily somewhere around the world. The news flash may be of a typhoon in the Philippines or Indonesia, an earthquake in Nepal or Italy, or unprecedented flooding in Louisiana or China.
The International Federation of Red Cross and Red Crescent Societies says that in 2014, some 317 natural disasters affecting 94 countries were reported, almost one a day. More than 107 million people were affected, including some 58 million in China alone where floods were particularly devastating.
In the decade between 2005-2014, more than 1,700 floods, 1,250 earthquakes, and almost 1,000 storms were reported worldwide. Many disasters were covered in news headlines for a day or two, then faded from attention. Out of the media spotlight, however, those affected continued the long and often difficult job of recovering and rebuilding.
In many places, such as Italy, where an August 2016 earthquake killed almost 300 people, civil defense and engineering teams are typically sufficient to handle disaster recovery tasks. In other places, however, resources may be less adequate or nonexistent to handle a major disaster.
Community Recovery
The Engineering Service Corps, a program of the volunteer non-profit organization Engineers Without Borders USA (EWB-USA), is organized to provide rapid and ongoing engineering support in response to natural disasters. After two recent earthquakes—one affecting Nepal in 2015 and the other Ecuador in 2016—volunteers from the Engineering Service Corps (ESC) responded with expert assistance to help communities begin to recover.
Disaster recovery can be viewed as a transition phase that occurs between disaster relief that is mobilized immediately after an event and community development that can last for years. Disaster recovery involves a series of activities that happen concurrently and move communities in the direction of achieving a successful rebuilding.
In the international development community, recognition is growing that even during the stress of disaster recovery, the need exists to focus on community-driven approaches such as those used by that EWB-USA. Two examples illustrate how these approaches work in practice.
Earthquake in Nepal
On April 25, 2015 an earthquake measuring 7.8 on the Richter scale struck Nepal, killing more than 8,000 people and injuring another 21,000. The quake triggered an avalanche on nearby Mount Everest that killed 21, making it the deadliest day on the mountain in history. As the cleanup was just getting under way, a major aftershock struck on May 12. It measured 7.3 and killed more than 200 people and injured 2,500.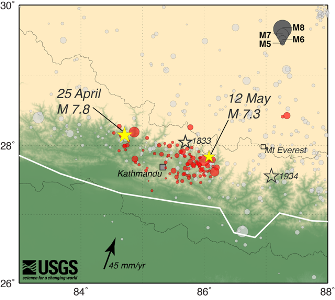 (Click to enlarge.) USGS map showing locations of the April and May 2015 earthquakes, and major aftershocks. Immediately after the first earthquake, EWB-USA reached out to its professional membership to find volunteers willing to assist with Nepal's recovery effort through the ESC. More than 250 volunteer members responded. Because the earthquake caused widespread building damage, the initial goal was to identify qualified structural engineers.
By June 1, EWB-USA had a two-person team working with Namlo, a non-governmental organization (NGO) that was partnering with EWB-USA on a community-driven development project in Nepal. The team worked with communities on temporary shelters, building assessment, water testing and long-term reconstruction planning.
"We were sent to an area where around 90% of the houses were affected," says Martin Aquino, a Civil Engineer with 35 years of experience who was part of the EWB-USA response team. His primary job was to develop a set of procedures for others to safely follow as they assessed damaged buildings and demolished those found to be beyond repair.
The assessment work proved challenging, but not simply because the quake impacted communities in remote, mountainous terrain. Most of the structures in this part of Nepal were built using rocks and stones that made little use of mortar to hold them in place. In some cases, stacked walls were as much as four feet thick. Many tumbled into rock piles when the April earthquake struck. Damaged buildings that remained standing proved deadly during the May 12 aftershock as people who had returned to their structurally deficient homes were killed or injured when walls and roofs collapsed.
As part of the ESC assessment project, "the main thing was to look at a building, define the structural elements and take down small portions at a time," Aquino says. In some cases, bamboo poles and ropes were used to prop up and support damaged buildings through their assessment and later dismantlement. A lack of heavy equipment such as bulldozers and cranes meant that much of the demolition work was done by hand. Workers often climbed onto damaged and unstable structures that were three or four stories tall to take apart buildings piece by piece.
The urgent need for engineering expertise was evident throughout the quake-affected area. Aquino and other volunteers helped to build pipelines to bring water to sites that had been cut off from potable supplies. Aquino also was asked to draw up plans to rebuild schools that had been destroyed. He drew simple designs "on the spot," he says, and without the aid of computer design software. "They were full days, every day," he says.
Earthquake in Ecuador
Less than a year later, on April 16, 2016, a 7.8-magnitude earthquake struck Ecuador, resulting in widespread damage. The effects extended well beyond the epicenter, which was a sparsely populated region 110 miles from the capital of Quito. Hundreds of lives were lost and countless structures suffered damage beyond repair.
The NGO All Hands Volunteers asked EWB-USA for technical support, as it had in Nepal. Within two weeks of the earthquake, the ESC had deployed Aquino and Kevin Hagen, the ESC director, to Canoa, one of the country's hardest-hit towns. Both Aquino and Hagen have ATC-20 training for post-seismic damage assessment and worked on the Nepal disaster recovery efforts. (Read this Engineering360 interview with Kevin Hagen on how he became involved with EWB-USA.)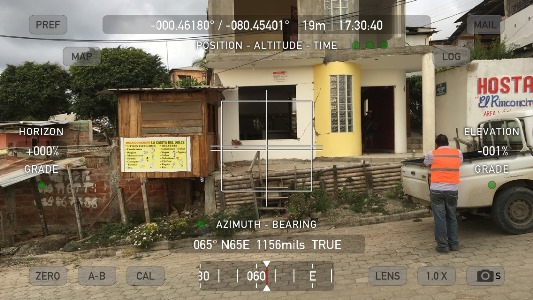 (Click to enlarge.) Assessment photo showing damage to a restaurant in Canoa, Ecuador. Image source: Kevin Hagen/EWB-USA Their work in Ecuador was done as embedded team members who supported the mission of AHV, says Hagen. Partnering with Ecuador's Corps of Engineers, the municipality of San Vicente and other national agencies, the ESC team provided engineering assistance and damage assessment. Their goal was to help guide a sustainable rebuilding process.
Hagen and Aquino learned that most of the buildings in Canoa were built with methods and materials poorly suited for use in an active seismic zone. In particular, most buildings were designed and constructed with inadequate consideration of seismic loading. Concrete frame buildings commonly have extensive open bays at the ground level. Masonry infill, when present, is often non-structural. As a result, when the earthquake struck many infill walls collapsed and many concrete frames failed. The town's primary school was so badly damaged it had to be razed, for example.
"We did the assessments and the army did the demolition," says Aquino. He and Hagen evaluated as many as 10 buildings a day and within 10 days had examined all of the damaged structures that they were asked to assess by the municipality. As part of their work, Aquino and Hagen left behind a report recommending improved building practices to create safer residential and commercial buildings.
Aquino is a native of El Salvador who grew up seeing first-hand the devastation that earthquakes can cause. Because earthquakes are so unpredictable and no one knows which buildings and structures will be affected, anxiety level can be one of an earthquake's most devastating side-effects.
"I feel their pain," Aquino says. "When you go through that and see what they go through, you know they appreciate the help."
As the Nepal earthquake demonstrated in particular, a fast response can mean the difference between life and death. Aquino says that he knew that many people died in the second Nepal earthquake because they had returned to homes that, while still standing, were structurally unsound. "They didn't get out of their houses," he says, and "some may have been saved" had engineering expertise been able to reach the country's remote impacted areas just a bit earlier.
Learn more about how you can become involved with Engineers Without Borders-USA, either as a volunteer or as a financial supporter.