Scattered-light Technology Could Allow Cameras to "See Around Corners"
John Simpson | August 06, 2016
Scientists from the Morgridge Institute for Research and the University of Wisconsin-Madison (UW) are working to optimize a camera capable of snapping pictures around corners. Technology pioneered by Morgridge imaging specialist Andreas Velten uses pulses of scattered-light photons that bounce through a scene and are recaptured by finely tuned sensors connected to the camera. Information from this scattered light helps the researchers digitally rebuild a 3D environment that is either hidden or obstructed from view.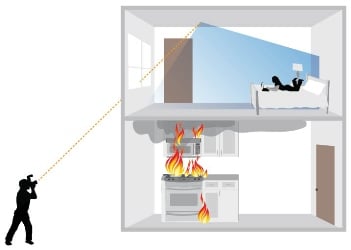 Seeing around corners could help emergency personnel identify people in danger during fires or natural disasters. Image credit: Morgridge Institute for Research.Velten first demonstrated non-line-of-sight imaging in 2012 while at the Massachusetts Institute of Technology. The technique was able to recreate human figures and other shapes that were positioned around corners.
Supported by a grant from the U.S. Defense Department's Advanced Research Projects Agency, he is now partnering with Mohit Gupta, UW assistant professor of computer sciences, to see how far they can push the quality and complexity of these pictures—a fundamental step before devices can become reality.
The pair developed a theoretical framework to determine how complex a scene they can recapture. They are creating models in which they bounce light a half dozen or more times through a space to capture objects that are either hidden or outside the field of view.
"The more times you can bounce this light within a scene, the more possible data you can collect," Velten says. "Since the first light is the strongest, and each proceeding bounce gets weaker and weaker, the sensor has to be sensitive enough to capture even a few photons of light."
The scattered-light technology could have applications for robotic surgery, enhancing the ability to see obstructed spaces less invasively, as well as in helping emergency personnel identify people in danger during fires or natural disasters.