Damage to Highways from Heavy Trucks Assessed
John Simpson | June 21, 2016
The University of Nevada, Reno (UNR) has conducted experiments for the Federal Highway Administration simulating the various loads borne by U.S. highways from heavy-truck traffic to gain a more detailed understanding of how damage is inflicted on road pavement. The findings will be incorporated into software that can be used by any road agency in the country to assess the impact of super-heavy loads on pavements.
"This is important data that will help establish a fair and just fee structure that represents the true damage caused by truck loads of 250,000 pounds and heavier," says Elie Hajj, associate professor and engineer with the Western Regional Superpave Center, in UNR's Department of Civil and Environmental Engineering.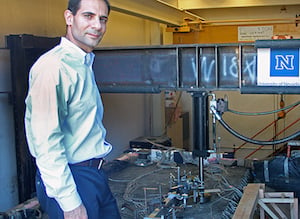 Elie Hajj, UNR associate professor and engineer with the Western Regional Superpave Center, conducted tests to obtain a more accurate assessment of super-heavy trucks' impact on U.S. highways. Image credit: UNR.The experiments, held on June 3 in the large-scale pavement test lab, included dynamic testing to simulate rolling weights and static testing to simulate vertical force on asphalt pavement, which is the material used on 2.5 million miles, or 90%, of the nation's roadways. A large computer-controlled hydraulic ram was used to push a 12-inch-diameter steel plate onto the pavement, simulating the weight of one super-heavy wheel on pavement.
"The static tests were scaled up from 9,000 pounds to 27,000 pounds and ultimately to destruction," Hajj says. "We saw damage begin with large and diverse cracks in the base and subgrade material, then distortion of the pavement surface followed by cracks in the asphalt."
The testing also simulated the force of a truck on a typical pavement structure with a sloped shoulder, which is considered to be critical when moving a super-heavy load. It will be compared to previously used computer models and integrated into policies and fee structures to help local, state and federal agencies more accurately assess the impact of the massive loads that travel on the nation's roads.
The team is developing a cost-allocation process based on quantification of the extra load-related long-term damage caused by super-heavy loads as compared to that caused by a standard truck.