Collaboration Tool May Aid Product Design
Engineering360 News Desk | June 15, 2016
Mechatronics as a design approach has a history dating to the 1960s. But the approach is seldom implemented in ways that streamline projects that involve mechanical, electronics, electrical and control engineering disciplines. That's often due to the task of synchronizing the efforts, processes and communications of separate and sometimes isolated stakeholders.
(Read "Collaboration Tools Are Challenging E-mail: Here's How.")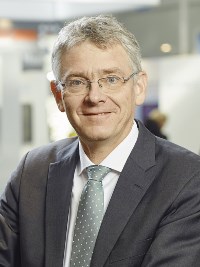 Eplan's Maximilian Brandl. That landscape has begun to change with the introduction of new tools that enhance and automate product design communications. One recent introduction is Syngineer, a software platform that developers Eplan and Cideon say may simplify collaboration among engineering disciplines involved in a product development. The launch is also a part of fulfilling what Eplan president Maximilian Brandl sees as mechatronics' potential to become "the next quantum leap for efficient engineering."
The software creates an interface between mechanical and electrical MCAN and ECAD programs and PLC programming. That interface centers on a model of the mechanical structure of the machine based on specifications, functions and components that relate across multiple disciplines. This creates a "collective view" of the machine to be constructed. The software also automates and organizes administrative communications. Both steps help shorten design and development processes, Brandl says.