Ford Tests CO2-Based Foams
Engineering360 News Desk | May 25, 2016
Ford Motor Company is formulating and testing new foam and plastic components using carbon dioxide as feedstock, which they expect to put into production vehicles within five years.
The foam is formulated with up to 50% CO2-based polyols, the material is being evaluated for seating and underhood applications, where the company says it could potentially reduce petroleum use by more than 600 million pounds annually.
"Ford is working aggressively to lower its environmental impact by reducing its use of petroleum-based plastic and foam," says Debbie Mielewski, Ford senior technical leader of sustainability.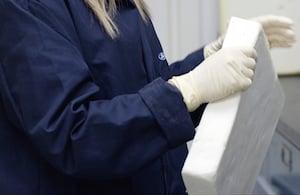 Ford's new foam is formulated with up to 50% CO2-based polyols. Image credit: Ford.Approximately 2.4 million pounds of CO2 are released into the atmosphere globally per second—much of it from the burning of fossil fuels such as oil. Plastic manufacturing alone accounts for nearly 4% of the world's oil use, according to the British Plastic Federation. Use of captured carbon in place of petroleum as a plastic foam feedstock thus potentially helps reduce CO2 in two ways.
Ford began working with several companies, suppliers and universities in 2013 to find applications for captured CO2. Among them is Novomer—a New York-based company that utilizes carbon dioxide captured from manufacturing plants to produce innovative materials. Through a system of conversions, Novomer produces a polymer that can be formulated into a variety of materials, including foam and plastic, that are easily recyclable.
Earlier efforts by Ford to develop sustainable materials for company products include the use of soy foam in all North American Ford vehicles. Additionally, the automaker now uses recycled tires and soy in mirror gaskets; coconut fiber to back trunk liners; recycled T-shirts and denim for carpeting; and recycled plastic bottles for the REPREVE fabric used in the 2016 F-150.