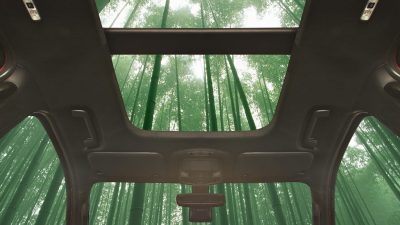 Bamboo might be used extensively in the future Ford cars. Image credit: FordIn an effort to demonstrate its creative thinking and eco-friendly mentality, Ford is going to use more of a material that has been neglected—bamboo.
Bamboo is natural, eco-friendly, grows very fast and is rather cheap. Furthermore, you would be surprised to discover how strong it is. Ford says that soon some interior elements of the brand's cars may be made from bamboo and plastic composite materials, which will be extremely hard.
Bamboo is obviously very well known for its strength and flexibility. It can be made into a hard flat material relatively easily, and there are plenty of opportunities to use bamboo plastics in the industry. Henry Ford himself experimented with using hemp fiber for car manufacturing, but at that time it was not sustainable. Now, however, times are changing and using bamboo may actually appeal to many people.
Historically, hemp plastics were seen as weak and less valuable than metal. Now, metal use is slowly declining in the automotive industry with fewer segments of cars being made of it. Ford is already using a variety of natural materials, but most of them usually serve only a decorative function. Bamboo plastic could be used for strength.
Ford is already negotiating with suppliers and testing the possibilities. Bamboo plastics, as tests have shown, have extremely good tensile strength and are impact resistant. Furthermore, they are durable and can withstand temperatures of more than 100 degrees Celsius. Other environmentally-friendly materials that Ford is using include kenaf, recycled plastic bottles, post-consumer cotton, recycled tires, soy-based foam and much more.