EPA Issues Final Methane Standards for New Oil and Gas Sources
Engineering360 News Desk | May 23, 2016
The U.S. Environmental Protection Agency (EPA) has finalized standards designed to reduce methane, volatile organic compounds (VOCs) and toxic air emissions from new, modified and reconstructed sources in the oil and natural gas industry.
The agency is starting the process to control emissions from existing oil and gas sources by issuing for public comment an Information Collection Request (ICR). This will require companies to provide the information that will be necessary for EPA to reduce methane emissions from these sources as well.
The agency's actions are part of the federal government's strategy under President Obama's Climate Action Plan to achieve the goal of cutting methane emissions from the oil and gas sector by 40 to 45% from 2012 levels by 2025. EPA says that, by 2025, the standards for new and modified sources are expected to reduce methane emissions by 510,000 short tons, ozone-forming VOCs by 210,000 tons and air toxics, such as benzene, toluene, ethylbenzene and xylene, by 3,900 tons.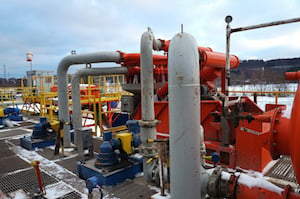 EPA says new data shows that methane emissions from oil and gas sources are higher than previously understood. Image credit: Pixabay. After reviewing more than 900,000 comments received on its August 2015 proposal, EPA updated a number of aspects in the final rule, including removing an exemption for low-production wells and requiring leak-monitoring surveys twice as often at compressor stations, which have the potential for significant emissions. The final rule also provides companies a pathway to align the final standards with comparable state-specific requirements they may have.
Methane, the primary component of natural gas, is a potent greenhouse gas (GHG) with a global warming potential more than 25 times greater than that of carbon dioxide. It is the second most prevalent GHG emitted in the United States from human activities—and nearly one-third of those emissions comes from oil production and the production, transmission and distribution of natural gas.
Over the past year, EPA says, new science and data have shown that methane emissions from oil and gas sources are substantially higher than was previously understood. To build on the agency's current knowledge, EPA is issuing an ICR that seeks a broad range of information, including the types of technologies that could be used to reduce emissions and their associated costs. The information the agency receives in response to the ICR will provide the foundation for developing regulations to reduce methane emissions from existing oil and gas sources.
EPA will collect the information through a general survey for all owners/operators of existing sources and a more detailed survey for specific facilities. The agency anticipates receiving data from the operator survey later this year and expects to conclude all aspects of the ICR in the first part of 2017.