Samsonite Uses EID to Anonymously Track Bags
By Engineering360 News Desk | April 29, 2016
Luggage manufacturer Samsonite will install a sophisticated beacon into a range of its suitcases that allows them to be easily and privately tracked by their owner. The Bluetooth beacon will use Eddystone Ephemeral Identifiers (EIDs), an open privacy/security protocol developed by Google.
Suitcases carrying the Track&Go beacon will have to be registered by the owner through the Travlr by Samsonite app. Travelers can then use the app to check the location of their suitcase within a distance of 70 meters and be notified if it is moved closer or farther away from them.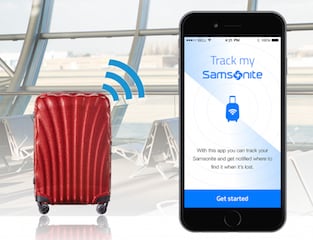 The beacon will use Eddystone EID, an open privacy/security protocol developed by Google. Image credit: Samsonite. Should their suitcase go missing, the owner can flag it as lost in the app. Once it has been flagged, the app leverages its user base to help the suitcase's owner find it. Should anyone else who is using the app pass within 70 meters of the lost suitcase, an EID-based signal is picked up, which triggers a notification with location and time details of the suitcase to be sent out to the owner. Both the tracking and notification process take place at no cost to users.
"Missing or permanently lost luggage is the nightmare of every traveler," says Ramesh Tainwala, CEO of Samsonite. "As the world's largest luggage manufacturer, we wanted to find a way to make this issue a thing of the past."
According to Samsonite, in 2014 over 24 million pieces of baggage were mishandled worldwide, meaning they were either temporarily or permanently lost. Of this total, 85% were returned to their owners within 48 hours. However, on average, 5.5% of all mishandled baggage is never returned.
The company says an important next step will be collaborating with airports and baggage-handling companies to grow the network of fixed Bluetooth beacons in the vicinity of travel hubs. Eventually, Samsonite expects that anyone with a smartphone will be able to help retrieve lost Samsonite suitcases and travel or business bags, thanks to the fast expansion of wirelessly connected devices.
Samsonite aims to launch the first suitcases featuring Track&Go in the European market at the end of 2016 and will consider extending the technology to a broader range of business and travel bags, as well as additional international markets, in 2017.