Increasingly, Drivers Are Steering Automotive Design
Kevin J. Harrigan | April 12, 2016
Auto enthusiasts find endless ways to personalize their vehicles. It could be a bumper sticker, a bobblehead on the dash, a bike rack, a booming sound system, a custom paint job, a new intake manifold and turbo booster, a hydraulically-actuated suspension, or a duct-taped bumper.
Vehicles are like snowflakes, each is unique and distinct. Every car is an exhibit of self-expression—even cars that are pristine and 100% stock say something about its driver.
But this self-expression can be dulled by automotive mass manufacturing. When tens of thousands of people are driving the exact same car, how personalized can an automobile actually be?
However new automotive design strategies promise a future where car designs are collaborated on by anyone with valuable ideas, not just engineers in offices. And new manufacturing techniques could offer individuals a chance to radically alter the aesthetic of their vehicle before it's even fabricated.
With recent advances, automotive technology is empowering individuals with more control over their vehicles. Someday soon, drivers could be driving truly one-of-a-kind vehicles that are made possible by a crowdsourced and open-sourced design and manufacturing.
Auto Design Meets Additive Manufacturing
Visitors to the 2014 International Manufacturing Technology Show were greeted with an unusual sight: a large envelop 3D printer constructing one of the world's first 3D-printed electric automobiles, the Local Motors' Strati.
The Strati was designed by Michele Anoé, who studied at the transportation design department of the Istituto d'Arte Applicata e Design in Turin, Italy. Although Anoé is professionally trained he identifies himself as more of an artist, describing himself as a "daydreams collector."
From top to bottom: The Strati printed at the 2014 IMTS; the LM3D Swim; the LM3D Swim sport version. Image source: Local MotorsAnoé worked in his spare time for 10 days on the Strati design. He submitted the design via Local Motors' online community, which the company uses to crowdsource vehicle concepts and ideas. For his design, Anoé was awarded $5,000 and a trip to the 2014 IMTS to see his creation printed in real life. Six other designers received honorable mention prizes.
Now Local Motors is planning to bring the first publicly-available, 3D-printed vehicle to market later in 2016 or 2017. Known as the LM3D Swim, the design also was crowdsourced. Crowdsourcing is essential for an upstart automaker such as Local Motors, which has a fraction of the research and development budget of a corporate automaker.
"There are, of course, complications with involving a large number of people in the design of a vehicle, but we think it's worth it to garner the technical and aesthetic input from people from all across the world," says James Earle, advanced manufacturing engineer at Local Motors. "Additionally, end users know best what they want out of a product, and by involving these people in the design stage, it's much easier to ensure that what we create is something people are interested in buying."
The LM3D Swim will use direct digital manufacturing (DDM) technology to produce 75-90% of the vehicle. Motors, electronics and other non-printable components are planned to be added after the print. The concept vehicle will be printed in an 80% carbon fiber, 20% ABS plastic composite material.
DDM will allow technicians to address the design of the LM3D Swim on a terminal before the vehicle goes to manufacturing. There are no tooling changes, and DDM eliminates lot sizes and lag time between design and production. This means redesigns can be accomplished quickly and easily, and different cars can be printed to different specifications without molding and machining expenses. Local Motors expects to empower customers with input on how they want their LM3D Swim to appear, and has developed concepts to showcase this potential.
"As we work to develop those features, we will be continually looking to our co-creation community to understand what they would like to see," says Earle. "We expect by late this year we'll have a better idea of which specific features we'll be able to offer for buyers of the LM3D series of vehicles."
Automakers Take Notice
The possible advantages that additive manufacturing (AM) offers for automobile personalization isn't lost on traditional automakers or aftermarket modifiers.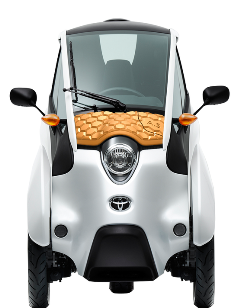 The Toyota i-Road, with replaceable, printable front panel. Image source: Toyota In July 2015, Toyota launched the year-long Open Road Project in Tokyo. The i-Road is an ultra-compact three-wheeled vehicle that corners like a three-wheeled motorbike but has the comfort of a car. One hundred people, from daily drivers to automotive experts, will be loaned a concept vehicle for a month each. Toyota will collect feedback on their i-Road experience to make the vehicle more functional and viable for manufacturing. It is another instance where vehicle design is guided by the customer, and less by the automaker.
Notably, drivers will be able to customize the colors and surfaces of the i-Road through interchangeable panels that are 3D printed. Because the i-Road is a pilot project, the number of parts that can be customized is limited. But by visiting the i-Road partner website on Rinkak, an online Japanese 3D printing marketplace, i-Road drivers may order panels and components of their preferred design.
The increased presence of 3D printing, particularly fused filament fabrication (FFF) and fused deposition modeling (FDM) technologies, and the decrease in cost, enables drivers to print future i-Road panels at home. Many testing and regulatory phases remain before the average drive can start printing new car parts at home, but Toyota recognizes the opportunity.
The next generation of do-it-yourself grease monkeys might be armed with a personal AM machine and SolidWorks, rather than a rolling case of tools. There will always be a need for engineers and mechanics to design and address vehicle drivetrains and other systems, but the knowledge and tooling threshold to work on your own vehicle will likely be quite different.
Another advantage to additive manufacturing is being able to create custom parts that look and fit like an OEM part. First a part is removed to create a 3D scan file. The part is then redesigned to meet the customer's specifications, perhaps to fit a large speaker or to integrate an iPad. The end result is a part that looks and fits like an OEM part, but is completely aftermarket.
Counterfeit parts are one concern, but so is ensuring custom components fabricated by individuals are up to automotive standards. Crowdsourcing can begin to address some of these issues by drawing on the expertise of many individuals in many disciplines. Yet manufacturer participation will remain important as they scrutinize redesigns, form partnerships with trusted vendors and receive useful customer feedback while maintaining vehicle operational and safety standards. Toyota seems to be one of the first major automakers to recognize this opportunity.
Open Source Vehicles for Anyone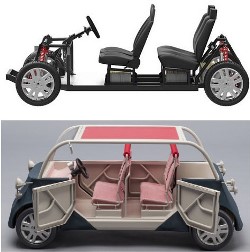 From top to bottom: The OSVehicle Tabby EVO car platform; L'Affranchie, a concept vehicle on the Tabby EVO. Image credit: OSVehicleAnd then there is the OSVehicle Tabby EVO, with a crowdsourced design and open-source creative commons manufacturing plans that can be downloaded and edited by anyone with a computer and a little CAD experience. The vehicle plans are compatible with 3D printing and DDM manufacturing to enable intensive redesigns.
OSVehicle encourages redesigns and believes the feedback generated is necessary to meet evolving customer needs. It's how the company learned there was increased demand for the original Tabby car in emerging markets, but had to develop a four-wheel drive version with a more rigid frame to meet precarious road conditions.
The vehicle platform kit, which can be assembled in an hour, includes an electric drive train (minus battery), suspension and wheels, steering and control instruments, two or four seats, and circuitry. Upon this elementary vehicle platform any type of interior and exterior can be constructed; an example is the concept vehicle L'affranchie, created by French industrial designer Loïc Le Guen.
According to OSVehicle cofounder and COO Yuki Liu, the process of designing a vehicle on the Tabby EVO is simple and streamlined.
"Open-source strategy is a key aspect of our project," says Liu. "You simply go on our website and download, for free, our 3D source files of our platform, Tabby EVO, released in open-source. You can start developing your new electric vehicle project with a CAD software—we also provide a free one. Then you order our platform, Tabby Evo, and start working on your first running prototype."
The Tabby EVO is currently in testing, but OSVehicle is accepting deposits on platforms via a crowdfunding campaign. The company expects to market the Tabby EVO to upstart automakers, educators, individuals and anyone with an interest in or need for a highly-customizable electric vehicle.
"Our platform designed to be is modular and use standardized components," says Liu. "Modularity enables the ultra-customization of vehicles and the possibility to easily integrate technologies like self-driving and connectivity solutions, intelligence on board and sensors. It can therefore be configured to suit the demand on an infinite number of market niches with the need to create ad-hoc factories."
Automotive manufacturing history is littered with footnotes of failed upstart automakers, and the futures of Local Motors and OSVehicle rely heavily on automotive manufacturing strategies that are yet-to-be-proven. When autonomous automobiles mature, it's unknown how the conversation on open-source and crowdsourced automobiles might further shift.
But there is little doubt that future auto manufacturing can offer drivers and individuals unprecedented levels of personalization, in large part due to the proliferation of AM, which is also providing automakers with the manufacturing techniques to make such customization possible. The fact that a storied, innovative automaker such as Toyota is also a part of this narrative undoubtedly adds credence to the visions of Local Motors and OSVehicle.
The LM3D Swim and Tabby EVO are offering individuals a chance to be part of the design process that has traditionally been left to engineers whose creativity is stifled by corporate risk management. This is beneficial to manufacturers as well, who are assured of a product that will meet the satisfaction of consumers, but also gain from manufacturing efficiencies. Due to these factors, it seems complete likely the LM3D Swim and Tabby EVO are the springboard for future generations of open-sourced and crowdsourced automobiles.