16 YouTube channels engineers should be following
Penny Hoelscher | March 11, 2023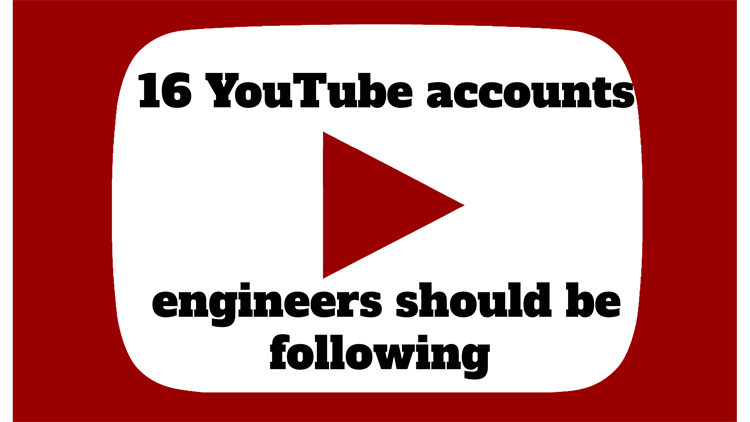 Across numerous branches in the engineering profession that require different skills and use different technologies – from electronics and chemical to mechanical and automotive – one thing engineers have in common is an insatiable curiosity about how things work, new technologies and lateral approaches to solving problems.
As the fastest growing and most practical social network, it is easy to get lost in the rabbit-hole known as YouTube. Allow these recommendations to be a roadmap across the engineering tube landscape.
Ingenious gadgetry
The Consumer Electronics Show (CES) bills itself as the biggest annual tech trade show in the U.S. Every year CES unveils novel tech products from well-known brands and new startups and presents talks by scientists and leaders in numerous industries, from manufacturing to the environment. The 2023 lineup included cool tech, like BMW's color-changing car, and an interview with tech mover and shaker Adrian Baschuk from Ethernity, who tackled the hot topics of the future of NFTs and Web3.
Gadget reviewer Lewis George Hilsenteger of Unbox Therapy – the channel with the slogan "Where products get naked" – has 18.2 million subscribers, who follow him to keep up with the latest tech products on the market. Watch him unbox the futuristic and quirky REDMAGIC 8 Pro gaming phone and the Limited Edition Realme 10 Pro Coca-Cola smartphone.
[Watch videos that cover all engineering fields: subscribe to the free Engineering in Motion newsletter from GlobalSpec]
Soft skills for engineers
The mission of the no-frills Engineering Management Institute channel is to help engineers up their game in the career stakes with informative videos about improving their soft skills and learning about entrepreneurial opportunities in engineering. Two must-watch videos are mastering effective leadership in civil engineering projects and starting an engineering business. The channel also serves up trending engineering news, like why mass timber is gaining in popularity in numerous engineering sectors.
Deep dives on advanced engineering topics
Massachusetts Institute of Technology (MIT) is arguably the best technical university in the world. Sometimes heavy going, for deep diving complex science, engineering and mathematics topics, MIT OpenCourseWare has numerous introductory and advanced tutorials for engineers wanting to revise engineering basics or upskill, like its 21 videos covering statistics for practical applications.
Hands-on projects
For engineers who like DIYing and tinkering in their spare time, the Make it Extreme channel has a bunch of videos to inspire engineers to make their own tools, furniture, big-person toys and engines. Two popular projects featured are how to make a monowheel and how to make a plasma cutter notcher.
Engineering marvels
Aptly named Interesting Engineering, this channel explores new technologies, many of them inspired by nature, like mussel-inspired adhesives, wasp-inspired drones and woodpecker-inspired black boxes. Interesting Engineering has a Military Mechanics playlist that looks at past and future technologies impacting the military industry and an Iconic Builds playlist, showcasing some top man-made structural wonders in the world.
SDOs to follow
The Association for Manufacturing Technology (AMT) channel has been promoting the interests of providers of manufacturing machinery and equipment since 1902. AMT videos focus on industry trends, for example the Tech Trends: High Steaks video and podcast looks at how plant inspections of the future will make use of robot dogs. The AMT also hosts regular Manufacturing for Growth (MFG) webinars, where manufacturing technology industry leaders discuss business and technology challenges. The 2023 MFG meeting is on March 30 and will focus on reshoring trends in the manufacturing supply chain.
The tag line for the official ISO channel is "Dare to dream BIG: Standards empower innovators". Anything but dry, the videos turn dull compliance regulations in sectors like travel and automotive into inspirational fuel for engineering projects in other highly safety-regulated industries.
Channels for thought leaders
To brush up on business and life skills, the Stanford Graduate School of Business channel covers a wide range of topics from the art of successful communication to using "pre-suasion" to influence people. A special guest on the channel is ChatGPT, a natural language processing chatbot, interviewed by Matt Abrahams.
Inviting debate and stimulating muse, Big Think serves up think pieces from some well-known engineers and scientists. For example, Elon Musk suggests Tesla and SolarCity may be the solution to the energy crisis and theoretical physicist and futurist Michio Kaku ponders What if Einstein is wrong?
7 industry-specific YouTube engineering channels to follow
Automotive engineering
The Engineering Explained channel is for automotive engineers and gearheads who want to know how cars work. For example, Jason Fenske explains in layperson's terms how rotary engines work and, for the more advanced, unboxes the science behind how multi-plate clutches work.
Chemical engineering
Periodic Videos is a cheat sheet and reference for elements in the periodic table with other chemistry-related news added regularly. Get started with the (many) colors of hydrogen and how to make plutonium.
Civil and structural engineering
The B1M hosts the most comprehensive vault of videos on YouTube about construction projects around the world. View the plans for some cities of the future, like billionaire Marc Lore's desert-located Telosa and Saudi Arabia's The Line, a smart city where cars and conventional streets are not permitted, and there will be no emissions.
Mechanical engineering
The FACTs of Mechanical Design was created by mechanical and aerospace engineer professor Jonathan Hopkins to share research into, and information about, compliant mechanisms, from origami to micro-electromechanical systems (MEMS). In short and informative videos, Hopkins answers questions like whether it is possible to create compliant mechanism without stiffness and looks at some early compliant tools, like bows and bellows, that have shaped everyday life for people.
Metallurgical engineering
Materials engineers can follow Metallurgical Engineering, which looks at how various raw metal ores are extracted and refined and answers dinner-party questions like What are the strongest metals in the world?
The lighter side of engineering
The animated videos from MinutePhysics explain a bunch of physics paradigms, conundrums and paradoxes. They answer all the questions curious children or dinner guests ask that sometimes even hardcore engineers have difficulty answering coherently off the cuff, like "Is it better to walk or run in the rain?"