This autonomous mobile robot fulfills orders in the grocery, e-commerce sectors
Marie Donlon | February 23, 2023
Brightpick, a provider of warehouse automation solutions for the order fulfillment sector, has developed what it claims is the world's first commercially available autonomous mobile-picking robot.
The Brightpick Autopicker is a fully autonomous picking robot designed for e-commerce and grocery order fulfillment tasks.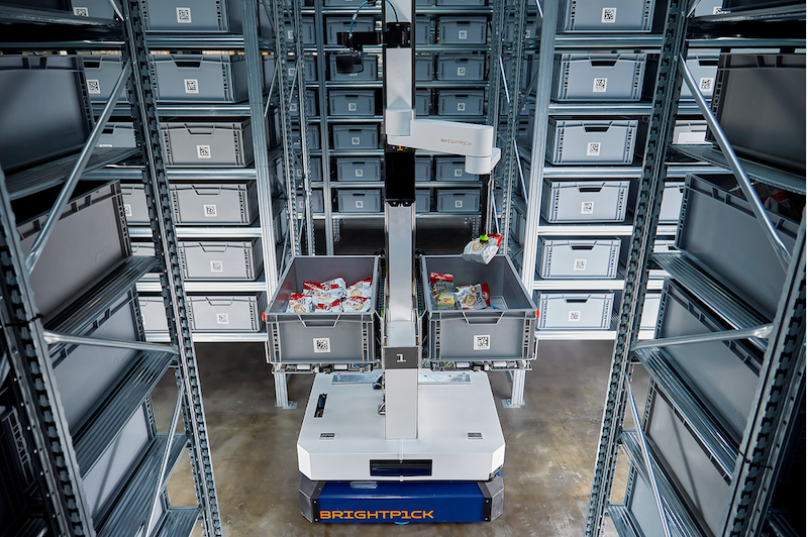 Source: Brightpick
According to its developers, the Brightpick Autopicker, which is powered by machine vision and artificial intelligence algorithms, is capable of both picking and consolidating orders in aisles. Additionally, the Autopicker can autonomously navigate warehouses, retrieving product store bins/totes from shelves and picking items from those bins/totes, thereby consolidating orders right in the aisle.
The Brightpick Autopicker, which is intended for e-commerce and grocery retailers, can handle an array of products including groceries, personal care products, cosmetics, pharmaceuticals, electronics, apparel and more, with a reported 99.9% rate of accuracy, eliminating the majority of human picking errors.
As such, Brightpick suggests that the Autopicker can reduce warehouse picking labor costs by 95% and cut costs for order fulfillment by nearly half.
For more on Brightpick's Autopicker, watch the accompanying video that appears courtesy of Brightpick.