Mettler Toledo bringing its inspection and detection tech to Interpack
Engineering360 News Desk | February 28, 2023
METTLER TOLEDO Product Inspection will bring a message of productivity and integration to the Interpack trade fair in May 2023. The company will be showing a wide range of smart product inspection systems — some of them on display for the first time in Europe. All solutions are positioned to help food manufacturers tackle the increasing need for digitalization in the marketplace, as well as helping combat rising manufacturing costs.
Under the banner theme of "Boost Your Productivity," the METTLER TOLEDO booth, A60 in Hall 11 at the Messe Düsseldorf, Germany, will comprise several different themed "islands." These will include areas dedicated to checkweighing, metal detection, x-ray inspection, vision inspection, track & trace and combination product inspection systems, in which more than one product inspection technology is integrated within a single frame.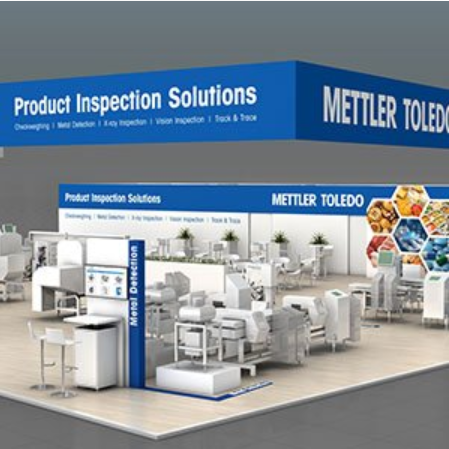 Source: Mettler Toledo
The "Boost Your Productivity" theme will be truly brought to life by the integration of many of METTLER TOLEDO's newest technologies in an integrated loop that is connected to METTLER TOLEDO ProdX data management software. Visitors will be able to see a practical demonstration of how connectivity delivers a range of digital productivity and security benefits.
METTLER TOLEDO will unveil the X2 x-ray inspection platform, which is designed for the inspection of small and medium packages with a belt width of 300 mm and 400 mm. X-ray inspection solutions within the platform are positioned to consistently deliver high performance detection capabilities for ensuring the safety and quality of food products.
As part of the X2 platform, the X12 entry-level x-ray inspection solution will be showcased for the first time in Europe at Interpack. This x-ray solution is ideal for brand owners requiring cost-effective contaminant detection with added integrity checks. A key feature of the system is ContamPlus software, which enhances detection capabilities to identify a wide range of contaminants, including glass, metal, mineral stone, calcified bone, dense plastic and rubber compounds.
Another new innovation to be shown for the first time is the X32 x-ray system. Part of the X2 Series, this x-ray inspection solution consists of an advanced detector and optimum power generator to achieve outstanding detection performance.
Also shown on the stand is the modular X32 x-ray system, which is part of the new X2 platform and provides users with a strong level of flexibility in how they configure their x-ray system.
On the metal detection side, METTLER TOLEDO will show several machines, including the M31R StandardLine, which is suitable for dry and wet applications and the M33R GC and M34R GC PlusLine metal detection systems which offer a step-change in performance and sensitivity for dry or deep frozen and wet or metalized film-packed products inspected via a conveyor. With the latest SENSETM software enhancements, all these metal detection solutions help to support sustainability initiatives with paperless record-keeping, boost productivity through simplifying essential tasks, and make compliance easier to achieve. Visit the stand to discover a new range of software upgrade packs that give the M31R StandardLine metal detectors PlusLine functionality and see ProdX automated record-
A new vision inspection system — the V13 Flat Pack Label Inspection System — will be launched globally at Interpack. This system performs inspection from the bottom up with a unique line scan camera, to inspect labels on the underside of flat packs at speeds of up to 300 packs per minute.
Also available on the METTLER TOLEDO stand are the advanced checkweighers featuring the new FlashCell EMFR technology, enabling precision weighing at speeds of up to 800 packs per minute, as well as Washdown checkweighers, designed for harsh production environments that support intense and frequent cleaning while offering reliable accuracy.
Interpack will be held May 4 to May 10, 2023, in Dusseldorf, Germany.