Video: From the North to the South Pole by EV
S. Himmelstein | February 23, 2023
Nissan is preparing to undertake the world's first all-electric driving adventure from the magnetic North Pole to the South Pole on board a modified Nissan Ariya e-4ORCE. The 27,000 km journey through some of the world's most extreme conditions will be navigated by a husband-and-wife driving team in the Ariya electric vehicle (EV) engineered for the 10-month foray.
Modifications to the EV by polar expedition vehicle specialist Arctic Trucks in collaboration with Nissan have been minimal, with no changes to the battery or powertrain. Adaptations include the addition of 39-inch tires, widened fender flares and strengthened underbody armor. The suspension has been optimized and elevated, incorporating repositioning and geometry adjustment to suspension mounting points and subframe.
A portable renewable energy unit will be used to charge the Ariya in the polar regions. The towable prototype includes a packable, lightweight wind turbine and solar panels that will take advantage of high winds and long daylight hours to provide charge for the EV battery.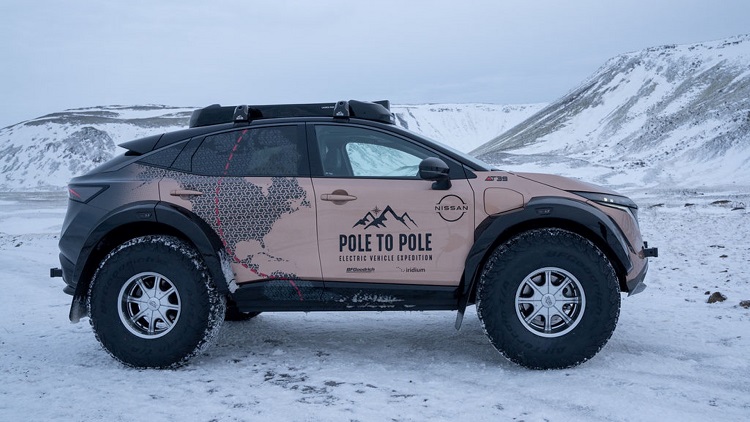 The Ariya EV is ready for the 27,000 km trip from the magnetic North Pole to the South Pole. Source: Nissan
This extensive road trip is scheduled to begin in March 2023, traversing 14 countries through Canada, North, Central and South America to Punta Arenas in Chile before traveling to the edge of the Antarctic continent, and then onward to the South Pole.