Environmental remediation made simple with real-time data management
Gordon Feller | January 10, 2023
Mine remediation is the process of minimizing the human and environmental effects of mining in an effort to restore the land to a state of reuse that will positively impact the environmental, social and economic characteristics of the area. Mine remediation can include surface and groundwater capture and treatment; capping mine waste, such as tailings and waste rock; and restoring the landscape to pre-mining beneficial uses. Once remediation is complete, the land can be used as a wildlife habitat, a residential area, a recreational area or for commercial development.
Typically, remediation data collection involves geographic information systems (GIS) and global positioning systems (GPS), databases, visualization software and reporting software. In addition, mobile data collection technology, such as cell phones, tablets and telemetry from the field, allow for massive amounts of high-quality data to be collected effectively. Quality control checks can be built into the data collection system to ensure data is of a higher quality than paper-based data collection systems. Data can be passed to managers while the team is in the field, so managers can be notified of issues while the technicians are still out at treatment plants.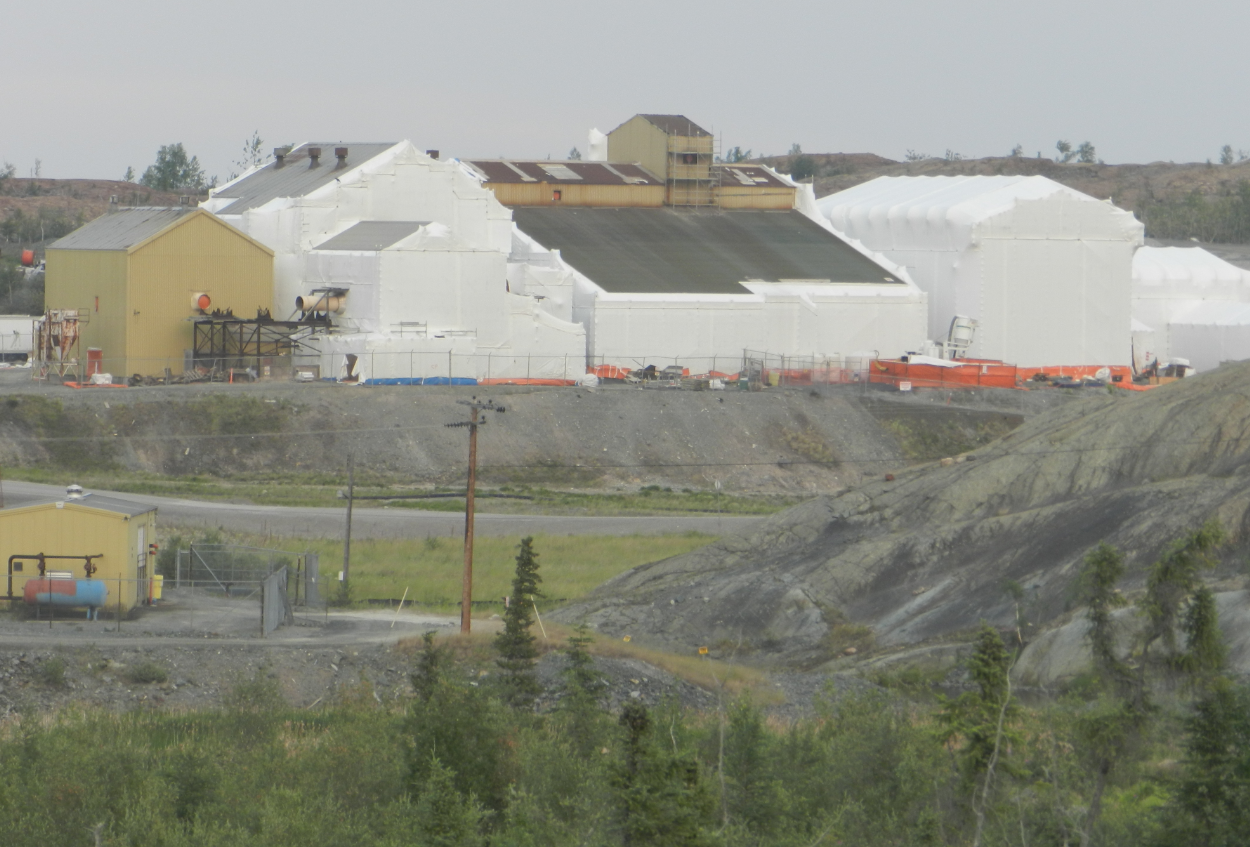 Source: Cambridge Bay Weather/CC BY-SA 4.0
The massive amounts of data that need to be collected for large-scale remediation projects can present many challenges. Large-scale remediation efforts require the collection and analysis of data in real time to allow for rapid decision making. This can be a challenge, however, in a remote environment with unfavorable weather conditions or rugged terrain that result in poor cell service and an unstable internet connection, which may render digital technology unreliable and require paper-based manual data collection. Manual data collection creates a lag between the collection of data and its use by mine managers, and it creates a less efficient workflow, particularly when multiple people need access to critical data.
Real-time data management at the Faro Mine
The Faro Mine was once the planet's largest open-pit lead-zinc mine, and the Faro Mine Remediation Project is one of the largest and most complex abandoned mine cleanup projects in Canada. Under the government contract, which could exceed $2 billion, Parsons Inc. will provide site management services, including overall occupational health and safety, environmental and geotechnical management, project management, construction management and procurement services, for the work that will be completed under the remediation plan.
However, a lot of the traditional data-gathering and networking tools were not initially available at Faro Mine. The site is located in the far north and is very remote. Cellular reception is poor, and internet connectivity is subject to outages. Weather conditions below -20° C are common, which complicates the use of digital technology in the field, as many devices designed for field data collection don't function in these temperatures. Harsh site conditions and limited connectivity to the internet have slowed the transition from analog to digital data collection at the site.
Fortunately, Parsons was able to find a way to overcome some of the challenges in working in such remote and harsh conditions, which enabled the team to collect data digitally and deliver information to decision makers quickly and in a useful format.
Parsons' engineers provided a bespoke solution by tying in ruggedized tablets and tablet warming systems. Using tablets in the field allows data to be collected and added into a database and ARCGIS online map in near real time. Team members both on- and off-site are able to view a map of sampling results via a web map, which maps data and provides tables and trend graphs.
Wi-Fi boosters located in water treatment plants spread across the site, and digital data collection in the field with a dashboard. In addition, using project management information systems and computerized maintenance management systems help to automate treatment system alerts and perform administrative tasks, such as maintaining stock of critical spare parts. Also, a database was used to link field data parameters with an on-site laboratory information management system (LIMS). An LIMS was set up for the on-site laboratory to automatically update the web maps as the laboratory processes samples. This speeds up the reporting of water quality samples and allows the team to respond to changes faster than they could in the past.
As a result, the speed and accuracy of reporting increased and manual data entry was significantly reduced. This provides decision makers with the information needed to manage site operations and ensure remediation activities are completed efficiently and correctly.
Collecting accurate data in a timely fashion ensures the safety of workers and the environment by measuring treatment system performance, assessing work conditions, and, in some cases, identifying opportunities for distance control as well as the appropriate equipment needed for tasks. In addition, highlighting the most relevant data quickly — no matter how large the dataset — keeps the project schedule on track, reducing project costs and time, and allows for the assessment of treatment trends before a problem arises.
Summary
Transformation of data collection to a multifaceted digital data management system offers significant savings by allowing managers to respond to trends before they become problems and by automating many administrative tasks.
Through its work on the Faro Mine, Parsons applied customized digital data collection forms to provide quality checks as the data is collected. This ensured that field data being collected is high quality. Data collected digitally is only entered once and can be pushed into tables, reports and maps. Data must have a designated storage location, and decision makers should have access to the data in a format that is useful to them.
Perhaps the most critical lesson is for those environmental remediation organizations that might be seeking digital integration to improve processes and efficiency. The wilderness offers challenges not seen on a factory floor, so engineers and project managers need to adapt to a different mindset when integrating data acquisition and analysis technologies.