Desert Sand as an Alternative Thermal Storage Material for CSP
Engineering360 News Desk | January 12, 2016
Researchers at the Masdar Institute of Science and Technology in the United Arab Emirates (UAE) have demonstrated that desert sand may be used to store thermal energy at up to 1000°C in concentrated solar power (CSP) facilities.
Scientists led by Dr. Nicolas Calvet, assistant professor of mechanical and materials engineering at the Institute, have determined that replacing the typical heat storage materials used in thermal energy storage (TES) systems—synthetic oil and molten salts—with sand can increase plant efficiency and reduce costs due to the increased working temperature of the storage material. Moreover, they say, sand is a plentiful, inexpensive natural resource in the UAE.
The research project, called "Sandstock," was launched to develop a sustainable and low-cost gravity-fed solar receiver and storage system using sand particles as the heat collector, heat transfer and thermal energy storage media. After studying at high temperatures its thermal stability, specific heat capacity and tendency to agglomerate, the researchers say they are satisfied that sand can be considered a viable TES material.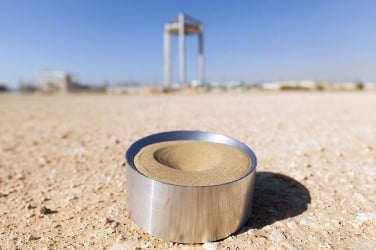 Desert sand from the UAE may now be considered a viable TES material. Image credit: Masdar Institute.The project involved analysis of UAE sand chemical composition using X-ray fluorescence and X-ray diffraction techniques. These revealed a preponderance of quartz and carbonate materials. Analysis further revealed that the desert sand can be used as a TES material up to 800-1,000 °C. The sand's radiant energy reflectiveness was also measured before and after a thermal cycle, as it may be possible to use desert sand not only as a TES material, but also as a direct solar absorber under concentrated solar flux.
"The availability of this material in desert environments such as the UAE allows for significant cost reductions in novel CSP plants, which may use it both as a TES material and solar absorber," says Calvert.
A laboratory-scale prototype also was successfully tested at the CNRS' 1 MW solar furnace, in Odeillo, France. A pre-commercial-scale prototype using a beam-down solar concentrator is slated for testing at the Masdar Institute Solar Platform, potentially in collaboration with an industrial partner.