Tracking trends in global CO2 emissions
S. Himmelstein | November 11, 2022
Global carbon dioxide (CO2) emissions stemming from fossil fuel use were very low prior to the Industrial Revolution of 1760-1840. With the subsequent increased use of fossil fuels to power machines, emissions rose to 6 billion tons of CO2 per year globally by 1950. The amount had almost quadrupled by 1990, reaching a rate of over 22 billion tons per year.
This infographic, based on data from the World Meteorological Organization's Global Carbon Project, shows that prior to the COVID-19 pandemic, average global growth in fossil CO2 emissions had slowed to 0.9% annually during the 2010s, reaching 36.7 gigatons of CO2 added to the atmosphere in 2019. In 2020, global lockdowns led to the biggest decrease in CO2 emissions ever seen in absolute terms. Global fossil CO2 emissions decreased by 5.2% to 34.8 gigatons, mainly due to reduced activity in the aviation, surface transport, power generation and manufacturing sectors.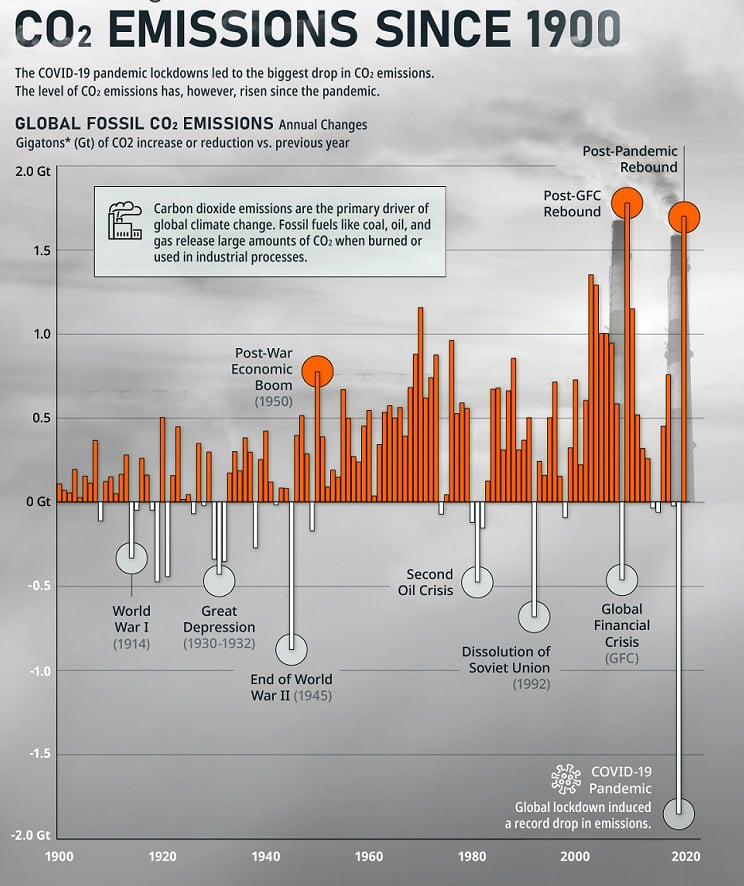 Source: World Meteorological Organization/World Resources Institute/International Energy Agency
Since then, emissions have approached pre-pandemic levels, reaching 36.2 gigatons added to the atmosphere in 2021.
Currently, the world emits over 34 billion tons of CO2 each year. Since 1751, the world has emitted over 1.5 trillion tons of CO2 cumulatively.