Video: Hands-on training for the commercial HVAC sector
S. Himmelstein | October 31, 2022
The commercial HVAC training catalog offered by Interplay Learning, which supports online and virtual reality training for the essential skilled trades, has been expanded. New courses are designed to enable commercial HVAC firms and mechanical contractors to reduce training costs and accelerate ramp-up times for their apprentices and technicians.
Five recently added courses will be joined by nine more in the near term, including a custom air handling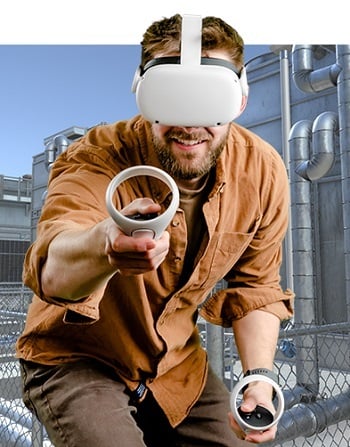 Source: Interplay Learning unit preventive and service maintenance course where users can apply fundamental concepts learned by conducting various air handler maintenance checks using a virtual air handler unit in a simulation. Hands-on 3D simulations will also address centrifugal pump repair (see the video above), packaged refrigeration unit troubleshooting and walk-in freezer troubleshooting. Safety courses cover ladder and fall safety, fire prevention and safety and other topics.
This simulation-based learning approach devised by the Austin, Texas-based training provider equips apprentices and technicians with the knowledge needed to problem-solve efficiently, leading to better and faster service calls. Participants can dive into everything from foundational applied sciences through instructional video courses to more advanced concepts like diagnosing five reasons why a chiller would have loss of flow from an evaporator or condenser in 3D simulation training environments. By applying the science behind how people learn best, Interplay equips learners with both the knowledge and cognitive skills required to solve problems.