Upcycling route cuts polystyrene reuse costs
S. Himmelstein | August 30, 2022
Polystyrene, the main component of Styrofoam, is a non-biodegradable and water-resistant material that is difficult to repurpose. Available recycling options are not economically applicable to this plastic as they yield products of low quality. A new upcycling route improves the economic viability of polystyrene reuse and promises to keep more of this material out of landfills and oceans.
Researchers from Dongbei University of Finance and Economics (China), Santa Clara University and Virginia Polytechnic Institute and State University first subjected the material to ultraviolet (UV) light and then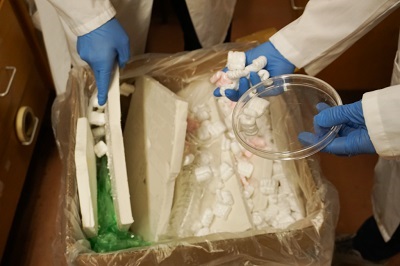 Researchers sort through objects made from polystyrene, a type of plastic that is rarely recycled. Source: Reilly Henson/Virginia Polytechnic Institute and State University exposing it to aluminum chloride, which serves as a low-cost catalyst. The end-product is diphenylmethane (DPM), an organic compound of value in drug development, cosmetics and plastics manufacturing.
DPM has a market price that is 10 times higher than other materials that can currently be synthesized from recycled polystyrene. An economic analysis reported in the journal Proceedings of the National Academy of Sciences suggests that because DPM has such a high economic value, the costs of collecting and processing the polystyrene would be fully justified.
Relative to conventional thermal processes, this new recycling — or upcycling — method offers an incentive for polystyrene to be collected and recycled.