Polymer grabs dyes from wastewater
S. Himmelstein | August 15, 2022
The removal of dyes contaminating pharmaceutical, textile and other industrial wastewaters is facilitated with a synthetic polymer developed at North Carolina State University.
After dissolution in a solvent, the polycarbodiimide material engineered by the researchers was mixed with water contaminated by a series of 20 anionic dyes commonly used in the textile industry. The efficacy of the polymer was quantified by ultraviolet-visible spectroscopy, which revealed that 16 of the tested dyes were effectively removed from aqueous solution. The polycarbodiimide itself was easily recovered within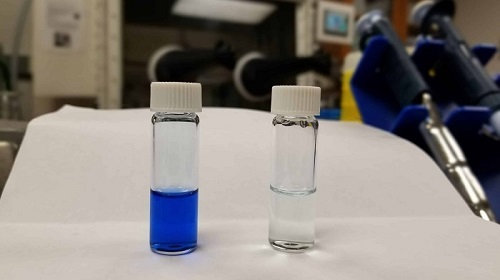 Polycarbodiimide can remove dyes from water, and the synthetic polymer can be recovered and reused. Source: North Carolina State University minutes for subsequent reuse.
"We mixed the polymer solution and dye-contaminated water so the polymer in the solution can grab on to the dye. This is a two-phase solution, just like oil and water. The polymer part of the solution grabs onto the dyes," said lead researcher Januka Budhathoki-Uprety. "Then we were able to easily separate the clean water from the contaminated solution mixture by draining it out, similar to separation of water from a mixture of oil and water.
"We are working to develop materials that can do the same work without having to use the polymer in the solution phase. If you have dye spill, you don't want to have to use a flammable solution — you want a solid material that is easier to handle."
The research is published in ACS Applied Polymer Materials.