Bitumen Additive Could Help De-Ice Roads
Engineering360 News Desk | December 28, 2015
Applying salt, sand and chemicals to icy winter roads could become a thing of the past if a recently developed bitumen additive is commercialized. A team of scientists, led by Dr. Seda Kizilel, of the Department of Chemical and Biological Engineering at Turkey's Koc University, have discovered that mixing salt potassium formate with the water-repelling polymer styrene-butadiene-styrene and adding it to bitumen—a component of asphalt—delays ice formation in lab studies for up to two months. The researchers say they found that the additives did not weaken the bitumen. Moreover, they say this de-icing method could last longer than two months in real-world conditions.
Ionic salts have been used to eliminate accumulation of ice on asphalt surfaces. However, salt can be removed by rain or automobiles and requires frequent application. Anti-icing agents also may compromise the mechanical properties of asphalt and have a negative effect on living organisms and the environment.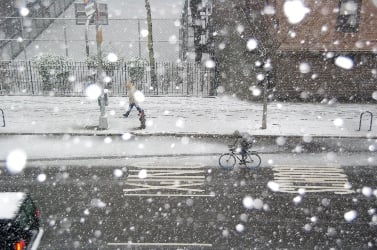 Ionic salts as anti-icing agents have been extensively used to eliminate accumulation of ice on asphalt surfaces. Image credit: Morguefile.com.Incorporating hydrophilic salts into bitumen—a hydrophobic asphalt binder—and controlled release of specific molecules from this medium can provide an effective alternative solution for reducing ice formation on pavements while minimizing runoff of the chemicals. According to the study's authors, embedding the salt-polymer composite within the bitumen at the time of manufacture would allow for a steady, controlled release as cars and trucks drive over the asphalt and slowly wear away the pavement. Thus, the salt could be released continuously—potentially for years.