A nondestructive method to catch cracks in concrete
S. Himmelstein | May 26, 2022
Dams, bridges and other concrete structures built to last for decades are subject to the alkali-silica reaction (ASR), a reaction between alkali ions found in cement and silica, the two main components of concrete. The reaction forms a gel that absorbs water and expands over time, causing a buildup of pressure within the concrete that can eventually lead to cracking and deterioration. A method for detecting ASR has been successfully demonstrated at the laboratory scale and could potentially be of use in the field.
The costly, time-consuming and destructive coring methods currently deployed for such analysis can be replaced with the electrochemical impedance spectroscopy (EIS) method advanced by researchers from U.S.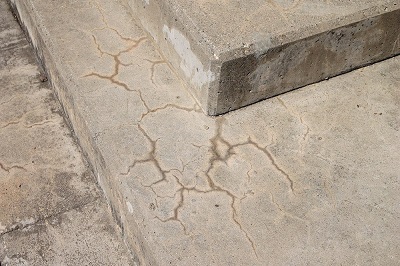 Cracking due to the ASR reaction in concrete can be nondestructively detected and monitored with the EIS method. Source: Draceane/Wikimedia (CC BY-SA 4.0) Argonne National Laboratory, Durability Engineers (Illinois) and University of Illinois at Chicago. The measurement of electrical conduction by EIS could be used to detect ASR nondestructively. Electrical conduction in concrete occurs via networks of pores formed during curing and is affected by the gel that evolves and fills gaps during ASR.
The researchers developed accelerated ASR in samples of concrete that were affected by ASR to varying degrees. EIS was then applied to determine the electrical resistance of the materials. The results published in Materials and Structures confirm that ASR altered the electrical resistance of concrete, creating a signature that could be used to distinguish and locate ASR.