Machine learning targets toxins in oil sands tailings
S. Himmelstein | May 11, 2022
Toxic constituents in oil sands tailings ponds pose a threat to potable water supplies and aquatic ecosystems. Determination of these pollutants is a daunting task, requiring days or weeks to document results with expensive equipment. The volume of waste materials to be tested is also challenging, with an estimated 1.4 billion m3 of fluid tailings in Alberta, Canada, alone. Machine learning techniques were tapped by University of British Columbia Okanagan researchers to devise a faster method for tailings sample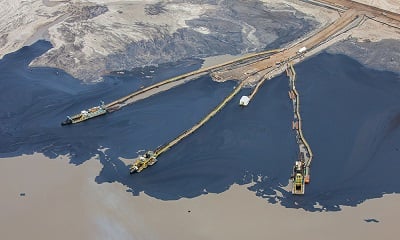 The method can quickly detect key toxins in tailing ponds water. Source: University of British Columbia Okanagan analysis.
Fluorescence spectroscopy was used to quickly detect key toxins in water, and the results were fed to a modelling program that accurately predicted concentrations of naphthenic acids (NAs) and phenol in samples. All of the machine learning methods detected relevant spectral features of NAs, while application of convolutional neural networks resulted in optimized performance for phenol detection.
The approach described in the Journal of Hazardous Materials will allow the oil sands industry to accurately screen and treat its waste materials. The researchers plan to evaluate the analytical system at a larger scale and to incorporate screening of additional toxins.