Plastic waste as CO2 collector
S. Himmelstein | April 07, 2022
Tackling two environmental problems at once, researchers in Texas devised a process to convert waste plastic into an effective carbon dioxide sorbent. Heating such waste in the presence of potassium acetate yields particles with nanometer-scale pores that trap molecules of the greenhouse gas.
The waste plastic is powdered, mixed with potassium acetate and heated at 600° C for 45 minutes to optimize the pores, most of which are about 0.7 nanometers wide. A wax byproduct is also produced and can be recycled into detergents or lubricants.
"Point sources of CO2 emissions like power plant exhaust stacks can be fitted with this waste-plastic-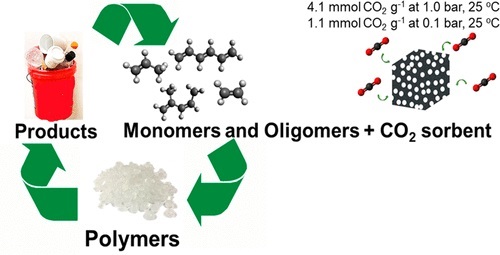 Plastic powder is combined with potassium acetate to yield porous particles that absorb carbon dioxide. Source: James M. Tour et al.derived material to remove enormous amounts of CO2 that would normally fill the atmosphere," explained the researchers. "It is a great way to have one problem, plastic waste, address another problem, CO2 emissions."
The reusable sorbent can cut the cost of CO2 emissions capture from a point source to about $21/ton, far lower than the $160/ton cost incurred by the energy-intensive, amine-based process commonly used to extract CO2 from natural gas feeds. The plastic waste-based sorbent is also expected to have a longer lifetime than liquid amines, cutting downtime due to corrosion and sludge formation.
Trapped CO2 is released from pores by heating the material to about 75° C, which also serves to regenerate about 90% of sorbent binding sites.
A study conducted by researchers from Rice University and the University of Houston is published in ACS Nano.